5 Reasons to Submit your Art to the RWA Annual Exhibition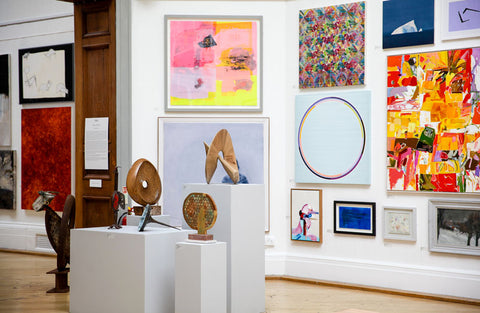 Each year we bring together the most exciting artists from across the world and exhibit them all together in our Annual Open Exhibition.
Here are 5 reasons why you should take part and have your work in the RWA 169 Annual Open Exhibition. 
1. Be rewarded for your submission with prestigious awards and prizes of up to £5000 
This year's Academy Prize winner will receive £5000 for a work in any medium, and we are also offering cash prizes including the £500 Harford Prize for a Global Majority / Mixed Ethnicity artist, and multiple prizes for art disciplines including watercolour, sculpture, printmaking, photography and drawing. 
Prizes also include the chance to be featured in the prestigious Evolver magazine. 
If selected you will also be invited to come and view the exhibition as many times as you like, for free! You can browse the other works that made the selection or take pride in seeing your work in the RWA. 
2. Share your work with new audiences and buyers
In 2019 almost 18,000 people visited the 167 Annual Open Exhibition. And with all of the selected artists' work being published on rwa.org.uk we can help get your work in front of new audiences over the South-West and beyond. 
Our prizes include features and interviews, meaning plenty of publicity for your artwork. The Annual Open Exhibition has also been featured in previous years in the National press, including the BBC, and Times and Guardian newspapers. 
Hundreds of the works exhibited are sold at the RWA and go to art collectors or first-time art buyers. All chosen artworks will also be available to purchase online through the RWA website. Additionally, where relevant (eg printmaking, digital art or photography), artists are allowed to sell editions of their work. This offers not only additional income but even more people with your art in their homes. 
3. Everyone is welcome to enter any art discipline and Your work is chosen on its own merit. 
Submissions are encouraged from everyone, from anywhere. It doesn't matter if this is your first art piece, or if you have exhibited your work previously, every piece is judged anonymously, meaning everyone has an equal chance of being selected.
We had a record-breaking number of entries for #RWA168 with 3566 works by 1833 artists! That's over 300 more than our biggest previous total in 2018. There's still a good chance of being selected, however, as we usually show around 600 works, so there's about a 1 in 6 chance of getting your work in the show - much higher than some other Opens!
You can create work on any subject, showing the judges and, if selected, our visitors who you are and what matters to you.
4. Your work will be seen by a prestigious selection panel and exhibited alongside the work of our invited internationally renowned artist Matthew Burrows MBE
This year's selection panel includes RWA Academicians' President, Fiona Robinson PRWA, RWA Academicians Sarah Gillespie, Dorcas Casey and Hamish Young, alongside collector and philanthropist Mark Golder; art critic/writer Sue Hubbard, and invited artist Matthew Burrows.
If chosen your work will be also exhibited alongside our invited artist; Matthew Burrows MBE (founder of the Artists' Support Pledge), as well as our many prestigious Academicians, including many RAs.
5. Be part of a landmark in Bristol's Art History 
This will be the very first Annual Open Exhibition to be held in the RWA's newly refurbished building. Show your work in one of the most beautiful galleries in the country and following a £4.5m transformation
One of the most beautiful places in which to look at art in this country"

 

- Sir Nicolas Serota, Chair, Arts Council England
The RWA Annual Open Exhibition has been running for 177 years, only pausing briefly during World War Two. The first Annual Open Exhibition was in 1844 and is an important part of Bristol's history that you can be part of. 
Submitting your artwork couldn't be easier via our online submission system. Submissions are open now and will close on Thursday 11 August. This year our selection process will take place entirely online. More information, guides and tips available on the RWA website.