168 Annual Open - Stancomb-Wills Gallery Tour by Lottie Kennedy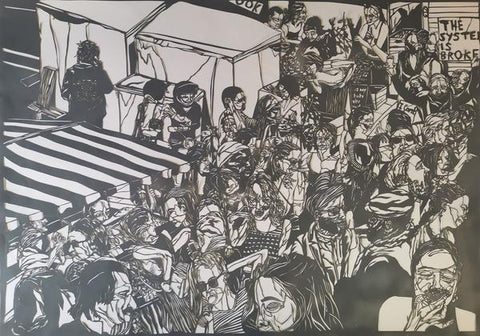 We are delighted to say that the RWA is reopening from Saturday 17 April - Sunday 9 May 2021. Book tickets for the 168 Annual Open Exhibition HERE
While we have been closed all artworks have been available for purchase online HERE and you can still do this until 9 May
Nature in Isolation
Today, amongst this collection in the Stancomb-Wills Gallery, ranging from artworks numbered 151-289, I have chosen to focus on the theme of nature, something which some of us may have had an abundance of during these times of lockdown and COVID-19. For others, such as those living in inner cities, with implemented travel and social restrictions such as meeting up outdoors, access to nature may have become more limited. The common government phrase of 2020 "Stay at home, Save lives" is one I am sure we are all familiar with. Many of us, especially here in the city, have been withdrawn from nature, enclosed within four walls and in many ways detached from the outside world. Whilst this is detrimental to our own health as humans, making many of our individual worlds stand still, it has allowed for much of nature to build and carry on around us, in some ways reclaiming human spaces such as the viral video of sheep pushing each other on a playground roundabout in Monmouthshire, Wales. Replacing the children who would have occupied this space outside of the "New normal" of social distancing.
The Midnight's Most Vociferous Fish by Mark Hughes (top) is a busy scene which would have once been so normal in terms of everyday life. Now these scenes of such activity and human presence feel nostalgic, especially for those living in a city. The hustle and bustle seems more like a distant memory with the "New normal" resembling something more like It'll be Dry When We Get There by Jess Townsend, a desolate street, made even more relatable by the blurriness Townsend has imbued upon this piece, making it seem as though it could be any street we would have once walked more often than we do now. The contrast between these two artworks by Hughes and Townsend seem almost like they could be a before and after despite being different streets all together. The title Hughes has given to the piece named, The Midnight's Most Vociferous Fish emphasises the loud energy and the excessive lines and shapes amongst the characters make them all seem connected and provide a sense of movement thus emphasised by the paper cut medium used. In the background a message to the right states boldly "The system is broke" adding to what appears to be a messy organisation of the space, a sense of chaos and disorder which contrasts hugely to the street scene by Townsend.
Another great embodiment of this notion of our normal lives being disrupted is The Order In Chaos 020 by Kit Yan Chong. In many ways this drawing creates this relationship between humans and the Earth, the simultaneousness of Earth and what we do to it, all happening at the same time. Out of our control. This work by Chong made with graphite on paper, was a recipient of The Work of Paper Prize. To me it looks like it combines so many elements of our natural world. As stated in the RWA description, the central image "disrupts" the lines drawn out for us,  echoing the randomness of the world and enlightening the concept of a straight path but with the possibility of altering directions alongside the unpredictability of nature and its capabilities, both positive and negative to human life. In some ways, the messiness and confusion that rearranges the perfect lines in this piece is so relatable to the rollercoaster of human life on this Earth. However, depending on how you look at it, this messiness and confusion is actually quite beautiful, it looks almost like mountains or a cloud or even a wave - Elements and attributes of the Earth. In a time living in lockdown, the concept of humans implementing themselves upon nature and seeing this piece in one sense as human life and in the other sense of nature itself, one may think of tangled roots in the ground or clouds that form from water and gas in the sky or mountains that build over time from the plates within the Earth shifting. The foundations of life and existence. Even the medium of using graphite and paper can be thought to be very elemental, as  are most things when you think about it.
The artworks in the Stancomb-Wills Gallery, as you may notice, are very monochrome, the room is filled with black and white, made up of an abundance of pencilled sketches, etchings and paintings. But it is far from the blur you would expect from a gallery room made up of mostly black, white and grey. Instead, it brings to light a perspective of life in a new way, especially in relation to nature which is what I am basing my talk on today. Within this collection shown in the Stancomb-Wills Gallery, I noticed an extensive amount of works relating to birds and with this a sense of liberation and freedom for nature. According to recent posts made by the Bristol Ornithological Club, bird sightings increased massively around the city especially amongst allotments.
From the beginning, Louise Thompson's, Cheeky Blackbird (top) captivated me. The clear appearance of colour distinguishing it from the rest of the monochrome collection, bringing present the notion of nature being our light, giving colour to the world which would be grim without it. The Cheeky Blackbird in some ways can represent the outside world and all the things which happen around us whilst we, are in a captive state during lockdown. The pale red in this artwork alongside the blackbird create a sense of juiciness and ripeness of the fruit as its black seeds look into the needy eyes of the bird, resembling life and nature, but also that of the food chain and so, the notion of life and its cycle is really embodied within this piece by Thompson. This artwork wonderfully compliments Where Have All The Birds Gone by Orsi Amy Kozel, a wonderful image showing empty cages which in many ways illuminates a sense of freedom and liberation, which perhaps is how we will feel later this year once lockdown restrictions are eased allowing us to be released from the cages we call home. The drawing also in many ways looks like its reflecting apartments in a city, the string and wire relating to the telephone wires we see across our streets, also featured in Townsend's, It'll be Dry When We Get There, and so, it makes one wonder if this drawing by Kozel, is about our own entrapment in lockdown, like birds in cages.
After speaking to many of my peers, it seems nature is what people craved the most, especially in terms of what they would want to view at an exhibition with nature being something in which we can all connect to, every individual whether inside or outside. Chanterelles by Konstantin Chmutin (top) is absolutely captivating, chanterelles of course referring to a common type of mushroom. The way it looks like it is dancing, almost brought to life by pencil and infused with a sense of enchantment which is echoed in the name of the mushroom itself. It makes me think of the beautiful everyday things we see, especially fruit and vegetables, the nature which keeps us alive. It almost seems as thought the mushroom is alive like a dragon or some sort of creature. RWA Academician George Tute's wood engraving, Anthropomorphic Figure, is very similar in this way. Both artists provide an increased sense of life to normal everyday "things", almost like showing us a mysterious ignored beauty present in so much around us, normally missed by the interruption of everyday life and its demands. Taking away the colour in Chmutin's Chantrelles, almost gives the mushrooms life, especially next to the insect in the centre left who in some ways mirrors the fungus's shape. Similar to this, Tute engraves a large pea shoot, standing up with the thistles almost as if they are talking to the flies and the trees. It could be that these artworks highlight the notion of nature coming to life during lockdown.
To browse all of the 168 Annual Open artworks online click here