Meet Charmaine Watkiss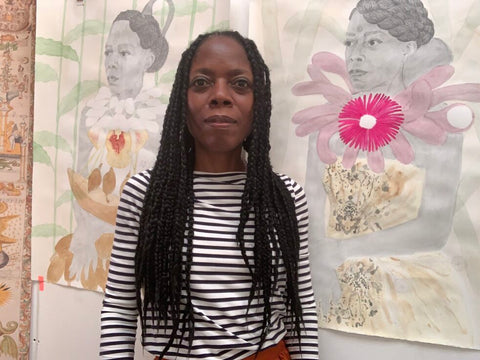 This year's Invited Artist and one of the selectors for the 170 Annual Open Exhibition
Each year, a different panel of selectors takes on the enormous responsibility of deciding which submitted works will be chosen for, and exhibited in, the Annual Open Exhibition. This year, we were thrilled to have Charmaine join the selection team along with artist Meryl Ainslie and RWA Academicians Fiona Robinson PRWA, Dallas Collins VPRWA, Lucy Austin RWA, Angela Lizon RWA and Karl Singporewala RWA.
As this year's Invited Artists, Charmaine will have three works on display in the main galleries alongside all the amazing work that she helped to choose during the selection process.
We thought you might like to get to know her a little better…
Born in 1964, in London, she completed her MA in Drawing at Wimbledon College of Art, 2018. Her work is concerned with what she calls 'memory stories'. She creates narratives primarily through research connected to the African Caribbean diaspora, which is then mapped onto female figures. She draws herself as a conduit to relay stories that speak about a collective experience; starting with an idea, and then allowing intuition and a dialogue with the work to take over. Her practice addresses themes including, ritual, tradition, ancestry, mythology and cosmology.
Since her first gallery solo show 'The Seed Keepers' in 2021, Charmaine has been investigating the herbal healing traditions of Caribbean women; especially those of her mother's generation, and connecting those traditions through colonisation back to their roots in Africa. 
In 2022 she completed a 6-week residency in southwest France at Launchpad LAB, which enabled her to explore nature and ecology in a more focussed way and to combine drawing with making sculptural forms. Upon her return, she was selected as a commissioned artist for the 12th edition of the Liverpool Biennial. This allowed her to develop her practice further by creating an installation that consisted of life-sized drawings and sculptures. The works embodied a healing frequency in response to Liverpool's troubled historical past.

Charmain Watkiss, The Warrior Focusses Intent Adversity, featured in 170 Annual Open Exhibition RWA
Her recent exhibitions include: O Quilombismo, Haus der Kulturen der Welt, Berlin. Spirit in the Land, Nasher Museum at Duke University; The Wisdom Tree, her first institutional solo show at Leeds Art Gallery; Drawing Attention: Emerging British Artists group show at the British Museum; and Breakfast Under the Tree, curated by Russel Tovey, a group show at Carl Freedman Gallery.
Her work is held in private and public collections including: The British Museum, London UK; The Government Art Collection, London UK; Cartwright Hall Museum, Bradford UK; Abbott Hall Museum, Kendall UK and Nasher Museum at Duke University, Durham NC USA. 
Come and see her work for yourself at the 170 Annual Open Exhibition, along with hundreds of other incredible artworks from the most exciting artists of today!

Charmain Watkiss, Invited Artist, and Fiona Robinson PRWA


170 Annual Open Exhibition, RWA, 9 September 2023 – 14 January 2024, Entry from FREE to £8.90
Why not get yourself an RWA Art Pass? For just £15 you can access all our ticketed exhibitions as many times as you like for a whole year, what a bargain!
The 170 Annual Open Exhibition is sponsored by