Meet the artist: Sarah Bailey – winner of The Floating Circle Prize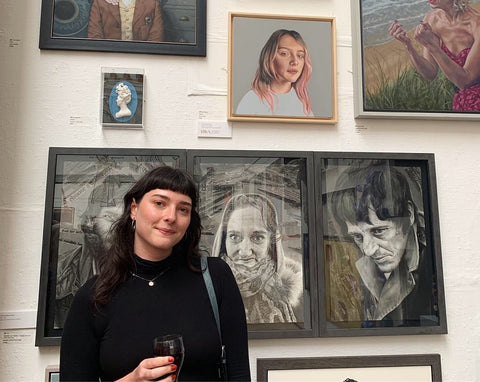 This year's RWA 167 Annual Open Exhibition included the first ever The Floating Circle Prize for Best Work by a Student, sponsored by the Friends of the RWA.
The selectors were the outgoing RWA President Stewart Geddes and the Vice President Ros Ford, who after much serious consideration chose the striking portrait Sophie, by the young Devon-based artist is Sarah Bailey.
Here's our Q&A with Sarah…
Congratulations on winning the inaugural Floating Circle prize for your stunning portrait 'Sophie'. What can you tell us about that work – and why you entered it into the RWA Open?
'Sophie' is a portrait of my younger sister which I created in my second year at the University of Leeds. My aim was to depict Sophie's strong character through the medium of oil paint. It was also important to create a true likeness which focussed solely on the face, using her gaze as a form of dialogue with the viewer. I found that the physicality of oil paint was the best medium to translate this.
I entered the RWA Open Exhibition after hearing about it while exhibiting alongside Jennifer Harris, an RWA Academician, in a small local exhibition. The opportunity to exhibit alongside other artists who I look up to was a big motivation to be part of this Annual.
'Sophie' – Sarah Bailey's prize-winning portrait of her sister. The painting immediately sold at the RWA 167 Open.
Your work was selected for the Floating Circle prize by President and Vice-President of the RWA, Stewart Geddes and Ros Ford, from amongst strong competition. What did winning the award mean to you?
Winning the award came as a huge surprise! The award marks a step forward in my career as a young artist. Gaining recognition for my work feels like a break in the relentlessness of exhibiting and a positive step in the right direction.
It also facilitated my first major sale and affirmed my determination to persevere in the competitive world of fine art and portrait painting. I couldn't be more grateful!
Left: Sarah receiving The Floating Circle Prize at the 167 Open private view. Right: FRWA Chair Jane Boot announces the winner
When did you realise you were an artist?
I have always enjoyed drawing, creating and using colour. It was never a sudden realisation, I just stuck at the thing I enjoyed most and ended up studying it at University.
In September 2015 I was part of the Devon Open Studios exhibitions in my hometown. This was my first experience of a public exhibition and an indication of what was to come. I sold two paintings and again, realised that this was what I wanted to do. Ever since, it has felt the natural course of things to call myself an artist above all else.
Can you tell us a little about your art education and artistic influences so far?
I spent all my spare time painting, especially when I was in school. I have always had encouraging tutors who pushed me to go beyond what I thought I was capable of and I've kept this in mind ever since. My formal education includes completing an Art Foundation course at Exeter School of Art and a degree in Fine Art and History of Art at the University of Leeds.
My Art Foundation was the perfect opportunity to focus solely on the art I wanted to make and improve my technical knowledge of oil paint in particular. If I hadn't have done this course, I certainly wouldn't be the artist I am now.
My degree was the biggest challenge. Balancing the art practice with the academic aspect was new to me, however, I found that my art historical knowledge fed into my practice and encouraged me to think more critically about my work. I take particular influence from 18th century art, particularly Grand Manner Portraits. I find the cultural history of British portraiture fascinating.
Why do you make art?
It is an outlet for understanding the real world.
What is your usual process for making a portrait?
I usually work from photographs as I find most people don't have hours on end to spare to sit for me. I tend to have a concept and composition in mind and take as many photographs as possible. Once I've found the right photographs to work from, I sketch the outline onto a well primed canvas and paint block colours onto major areas. This helps me visualise forms and reduces the risk of white canvas peaking through.
A lot of my method is trial and error, spending more than half of my time making mistakes, waiting for the paint to dry and trying again. It's a frustrating practice, but after months of hard work, finishing a piece is indescribably satisfying.
What are you working on now?
At the moment I am working towards a series of portraits of pub regulars to be exhibited in my local. It is important to me to document the faces of people in the small community in which I live and exhibit them locally to demonstrate that fine art and portrait painting in particular are not only for esteemed galleries. I feel strongly that art should not be shrouded in exclusivity. Therefore, these paintings will be of ordinary people and accessible to everyone.
Finally, a fairy godmother waves her magic wand and says you can own any artwork in the world. What do you choose?
I would chose the 6ft Haywain sketch by John Constable. I find his landscapes and cloud studies mesmerizing and feel a strange surge of emotion whenever I encounter his work. They are like time travel and escapism for me.
The Friends of the RWA is an independent charity that supports the Royal West of England Academy, Bristol's first art gallery.
For just £35 a year Friends can make unlimited visits to RWA exhibitions and enjoy a host of other benefits, as well as making an important contribution to the arts in Bristol and the South West. Find out more and join up here.
Interview conducted by Andrew Nixon, editor of the Friends of the RWA's arts blog The Floating Circle.