Meet the Artist: Fiona Robinson PRWA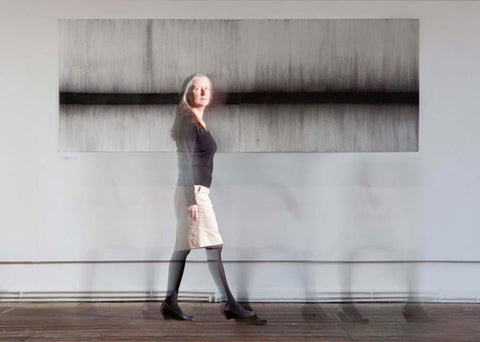 Our exclusive Q&A with artist and new President of the RWA Fiona Robinson…
"…My first in depth exploration of a piece of music was of Bach's six Suites for Unaccompanied Cello. I drew each movement listening to different interpretations.. Marrying my duel obsessions for music and art was so obvious I don't know why it didn't happen before…"
Fiona Robinson PRWA is an artist who creates drawings and works on paper that directly respond to pieces of music – using line and erasure to explore the interaction between sound and physical mark-making.
In recent years Fiona has increasingly played a key role in the life of the RWA. Elected an Academician in 2013, she co-curated major exhibition Strange Worlds: The Vision of Angela Carter in 2017 and was guest curator for Sawdust and Sequins: The Art of the Circus in 2018. In 2019 she replaced Stewart Geddes as President of the RWA.
In this exclusive Q&A Fiona talks about her art, music and her vision for her presidency…
When did you realise you were an artist?
There was no one point in time. As a small child I was constantly collecting things, making things and doing little drawings. My parents took us to the National gallery regularly and my father took me to Nuremberg to the Durer Quincentenary exhibition. Becoming an artist gradually evolved from studying art at school, then college, to now.
Why do you make art?
I make art because I need to!
Fiona Robinson PRWA: La Mer Debussy graphite charcoal and mixed media 80 x 120cm 2016
You make drawings that are a direct response to pieces of music. How did you come to explore this distinctive area of art? Are you a musician yourself?
In retrospect the first time I made drawings to music was when I sat in on dance rehearsals in order to draw the movement, but what I was actually responding to was the sound of Philip Glass's music. The next trigger was listening to the snapping of ropes on the masts of sails in the harbour near where I live. The first time I deliberately worked directly to music was making small ink drawings in response to an album of John Cage's prepared piano music. I soaked pieces of string in Chinese ink and snapped them against the paper, heavy hand-made Khadi paper, in time to the music, making completely random marks. This led directly to immersing myself in Bach's Suites for unaccompanied cello.
I would not call myself a musician but I love my piano and play every day. I often learn to play pieces when I decide to draw them so that the drawings live and breath the music. The music gets into my DNA and from there onto the page!
How has your work changed or evolved over time?
Landscape was always a driving force and I still draw mountain ranges in Ireland whenever I am there, but my work is no longer directly related to landscape. I used to work in quite intense colour but I gradually reduced my palette to monochrome with a touch of Naples Yellow and a little Prussian Blue – then abandoned paint altogether – for the moment!
It was during a Fellowship at the Ballinglen Arts Foundation in Co. Mayo that I started to tip horizon lines so they began to look more like strings on the neck of a cello or violin. My first in depth exploration of a piece of music was of the 36 movements of Bach's six Suites for Unaccompanied Cello. I drew each movement listening to different interpretations by Yo Yo Ma, Casals and others. Marrying my duel obsessions for music and art was so obvious I don't know why it didn't happen before.
One of my early music drawings is currently on show in Pushing Paper at the British Museum.
Fiona Robinson PRWA: John Cage In a Landscape 1948 (detail) 80 x 120 cm– Version 2
…Generally it just happens that I think I would like to draw to a particular piece. The John Cage piano piece In a Landscape 1948 …meanders in a way that demands that the line follow that slow wandering sound…
Fiona Robinson PRWA: Discords 2. Graphite charcoal and mixed media. 2011. 56 x56cm British Museum Collection London. Currently on show in Pushing Paper at the British Museum and then on tour.
You have 'drawn' music by Bach, John Cage, Debussy and Chopin, amongst others. What makes you choose a particular piece of music for an artwork?
I listen to a lot of music and generally it just happens that I think I would like to draw to a particular piece. The John Cage piano piece In a Landscape 1948 is very different to his prepared piano pieces. It is simple (fairly easy to play) and very lyrical. It meanders in a way that demands that the line follow that slow wandering sound.
Apart from the Bach Suites I drew my way through most of Debussy's piano works. For other composers I have just been entranced by a particular piece like Fauré's sonata in A for violin and piano. Different pieces demand different marks, speed, even a touch of colour!
What has the RWA meant to you over your career – both as an artist and as a curator of exhibitions (such as the superb Strange Worlds: The Vision of Angela Carter in 2017)?
Being an Academician has had a significant impact on me and my career. Being an artist is quite a solitary occupation and through the RWA I have got to know many artists as colleagues and friends. I have exhibited at the RWA every year since 2005 (except one year when I was selected not hung!)
One of my favourite things is the placing of works for the Black and White room for the annual open. I have been doing it for six years firstly with John Palmer and more recently with Laurie Steen. It is a huge challenge being presented with all this work that you have never seen before and in two days arranging it so that it makes the best of each piece of work and the room works as a whole. There is a great sense of camaraderie amongst everyone involved and we have a lot of fun.
I am incredibly grateful to the RWA for asking me to curate the Angela Carter show. It was a wonderful opportunity and very hard work but very satisfying. I thoroughly enjoyed sourcing work from contemporary artists and planning the hang. It was a source of pride that I was able to include less well-known artists to exhibit alongside the big names. It was a team effort with wonderful artists, Marie Mulvey Roberts of UWE working on the historical works and the support of the fantastic technicians and staff at the RWA.
Fiona Robinson PRWA: Gabriel Fauré Sonata for Violin and Piano in A Minor. Graphite charcoal and mixed media 60 x 83 cms
Fiona Robinson PRWA: La cathédrale engloutie (Préludes Bk. 1) Debussy plays Debussy Series 40x56cm The Fitzwilliam Museum Collection Cambridge (Will be shown in Seeing Sound: Music Imagery and Inspiration – Fitzwilliam Museum, Cambridge 8 October 2019 – 12 January 2020)
This year you were elected President of the RWA. What does it mean to be elected by your peers, and to lead this organisation?
It is a huge honour to be elected President of the RWA particularly having that trust put in you by your peer group and to follow in the footsteps of Stewart Geddes who has been such a wonderful President.
It is a responsibility that I take very seriously and I am very excited by the possibilities ahead. It is particularly satisfying that I am the first artist to be elected President whose primary practice is making drawings and working on paper.
This is an exciting time for the RWA, with plans in place for a major investment in the building. Do you have a particular vision of what you would like to achieve during your Presidency?
I would like to see the RWA celebrated in Bristol and beyond as a vibrant exciting 'go to' place showing world class art, acknowledged as supporting emerging artists and having a forward-looking dedicated group of Academicians at its heart. I would like to see more awareness of its unique characteristics: its beautiful galleries, its exhibitions combining contemporary with historical work and for the Annual Open to be an essential date in everyone's annual calendar.
In raising its profile I would like to see more diversity. It is already heading in that direction but I would like it to engage and retain the interest of visitors from all sections of society and all ages, and for the Academicians, Artist Network and the exhibitors in the open to be a closer reflection of our multi-cultural society.
Particularly close to my heart are initiatives that support children (together with their siblings and parents) and adults who find crowds and noise challenging and so would benefit from visiting the museum in small groups at quiet times perhaps when it is closed to the general public.
Fiona Robinson PRWA: CChopin Nocturne Opus 9 No. 1 #1 2019 – 20x85cm. Graphite charcoal chalk & mixed media. Currently on show in the RWA Open.
What are you working on now (in your art)?
Since the spring I have been working on a new series of drawings in response to Chopin's Nocturne Opus 9 no.1. It is a very beautiful rather yearning piece of music and I started learning to play it earlier in the year. My first finished drawing, which is very large, is currently on show in the open, funnily enough in The Stancombe Wills Gallery, the Black and White room. It is a new departure because I am working on Chopin for the first time and I am also using pianola rolls as a resource.
Finally, a fairy godmother waves her magic wand and says you can own any artwork in the world. What do you choose?
One of my all time favourite paintings is The Magdalen Reading by Rogier van der Weyden in the National Gallery. It is utterly exquisite. I love the complete concentration on her face and the handling of the paint, oils rather than tempera on panel, is masterly.
Rogier van der Weyden – The Magdalen Reading. National Gallery
I head to see it first when I go to the NG or pop in when short of time to just look at that. But it would be selfish to deprive everybody else of loving it so I might just have to lend it back to the NG!
You can see more examples of Fiona's work on her website.
Photo Credits: Colin Mills, George Meyrick and Phil Harrison. Portrait photo top in front of The Unfolding. Charcoal 80 x 240 cms Photo Credit Andy Whale
The Friends of the RWA is an independent charity that supports the Royal West of England Academy, Bristol's first art gallery.
For just £35 a year Friends can make unlimited visits to RWA exhibitions and enjoy a host of other benefits, as well as making an important contribution to the arts in Bristol and the South West. Find out more and join up here.