Interview with Strange Worlds artist Sarah Woodfine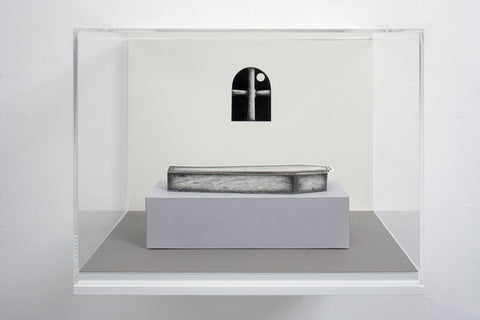 Ahead of her two-day special drawing workshop at the RWA on Saturday 11 and Sunday 12 March, curator Fiona Robinson talked to artist Sarah Woodfine. Sarah has three works in Strange Worlds, one of which was an Arts Council England Commission.
Fiona Robinson: Sarah, you won the Jerwood Drawing Prize in 2004. How do you think winning that prize impacted on your work and your career?
Sarah Woodfine: Winning the Jerwood Drawing Prize in 2004 impacted on my work in a number of ways. Firstly the award produced the opportunity to be involved in more exhibitions and projects than I had experienced before. It was also very special to have been selected by the judges for this Prize as making work can be a very isolating experience, the feedback in the form of verbal interest was very rewarding. Having people believe in your work is hugely supportive for especially younger artists and this goes beyond the winning of the Jerwood Drawing Prize. Over the years there are especially three people that have been hugely supportive in terms of mentoring my ongoing art practice including Mujeeb Bhatti (artist and writer), Marco Livingstone art historian and curator) and my gallerist Danielle Arnaud. Having these people care about the ongoing development of my work and actively involve themselves is hugely important. The benefits include anything from critically pushing my concepts or an in depth analysis of what I have made to putting me in contexts and situations where I have to stretch my work and ideas.
FR: The three works which are exhibited in Strange Worlds, Boy, Castle and Untitled Forest consist of your signature exquisite fine-lined drawing on paper set in a three dimensional space. Has your work always occupied sculpture as well as existing as work on paper?
SW: I studied Sculpture at the Royal Academy Schools so this is an interesting question. Right from the outset of working with drawing in a two dimensional form, in my perception I have been making sculpture. What I mean by this is that the pencil process in itself has an extremely sculptural quality to it. The way in which I press firmly into the surface of the paper at times can seem like a carving process. The very first drawings I made existed in vast spaces of white paper as if floating in a vacuum. This approach was very much to do with me wanting to make sculptures that defy gravity and float in isolation but I didn't want any props or mechanisms to make that happen. In part I entered into the illusionary space of the two dimensional realm as a way of dealing with a sculptural problem I was encountering relating to space. There has been an ongoing preoccupation with the shift between two and three dimensional realms within my work. This has ranged from the sculptures in cases that utilize cut out flat forms with highly three dimensional drawings depicted on their surfaces to the large snow dome Untitled (Castle) which has the ability to make form distort completely. Essentially I am interested in the shifts between different dimensional realms as this brings up questions about perceived reality.
FR: What sort of preparatory or exploratory work do you do before you embark on a piece of work?
SW: Before I embark on a piece of work I do a lot of preparatory work in terms of the subject field I am exploring. The research itself can be quite seductive as the deeper you go the more the subject opens up. For instance, in my recent piece, Untitled Forest commissioned for the Strange Worlds exhibition at the RWA my research involved not only reading Angela Carter's work but a deep look at the wide and varied interpretations of Little Red Riding Hood along with the varying forms the story has taken. The varying forms of the story from the initial versions by the Brother's Grimm and Georges Perrault throw up big questions about the deeper meaning of the fairytale.
Through this research I am looking for my way into the subject, as I looked deeper into Little Red Riding Hood I realized my interest was the realization that for me Little Red and the Wolf can be defined as one and each other.
FR: I am very interested in what you say about a pencil having qualities associated with tools used for sculpture and with the amount of pressure that you exert on the paper.
SW: Drawing in the expanded field has become much more deeply focused on in recent years and drawing has more and more taken on a role as a practice in it's own right rather than a subsidiary or supporting influence. When I mention the sculptural tool in relation to drawing I am referring to the way in which I perceive the landscape of the surface of the paper. This seemingly flat surface has huge potential and is clearly not completely flat. The surface quality can be explored through a variety of paper varieties but it is not that element I am referring to (I only use one or at times two types of paper for over 20 years). I am referring to the way in which I closely inspect and hyper focus on the surface, a process which is almost hallucinogenic, the micro tip of a well sharpened pencil can take on the quality of a carving tool in the way in which it presses into the surface of the paper and embosses the material nature of the surface.
FR: It seems to me that in your most recent work you are starting to use colour, more than I am aware than you have before. How does your use of colour affect your interest in the perceived reality thrown up by your shifts between two and three dimensions?
SW: Forest 2016, produced for the Strange Worlds exhibition definitely uses more colour than before. I wanted this piece to have an uneasy sense of violence about it whilst also making a nod to little red's cloak. The colour is only within the paper in the work as I see so much of a range of colour in monotone and have made a rule to stick to that within my pencil process. In this piece the front view doesn't give away the amount of red the side view throws up. This can refer to the ideas I am exploring about shifts in perception according to viewpoint, which ultimately relates to perceptions about the nature of reality.
Strange Worlds continues until Sunday 19 March. Sarah Woodfine's workshop Drawing On... Within the Realm of the Fairy Tale runs this weekend, 11 and 12 March. Images of Sarah's work in Strange Worlds can be seen on our Flickr page.