An Interview with Sarah Pickering, Exhibiting Artist from our Major Exhibition Fire: Flashes to Ashes in British Art 1692-2019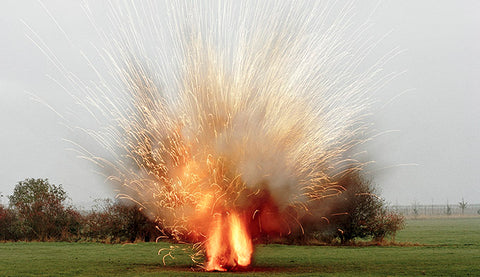 What is it about the element of fire that inspires you?
I've returned to the theme of fire over a number of years. It's an interesting subject for photography as it's destructive and constantly moving. Still images of fire permanently suspend the element in a way that human vision can never access.
With the Fire Scene series Glue Sniffing Kids (2007) the series shows set dressed interiors that are strategically burnt to train forensic teams and crime scene investigators. Painstakingly assembled to have a convincing level of realism, the spaces have pictures on the walls, underwear in drawers, ornaments, trinkets and books on shelves, and even food on the breakfast table.
Each photograph suspends a moment of an event as it unfolds. By capturing the fires, every image is poised between completeness and ruin and set within a continued cycle of construction and destruction. These documentary photographs are institutional representations of the real world, a fictitious reality. I'm interested in the separation of the real from the imagined, and the complexities in negotiating and representing this.
Similarly with Landmine (2005) featured in the exhibition from the Explosion series, these photographs depict pyrotechnic explosions used by British police and military instructors to intensify the sense of drama and tension in training exercises, are part of a series taken at test sites in the English countryside where the bursts of light, flames, sparks, and smoke sit incongruously in the rural environment.
The simulation pyrotechnic industry has rapidly expanded over the last few years: atrocious acts have happened in conflict throughout history, yet training in recent times has had to become more and more realistic to psychologically prepare our forces for the worst. Police and soldiers who have grown up playing computer games and seeing ever more spectacular special effects in films are simultaneously disconnected from and situated closer to the "real."
Whether real or artificial, we enjoy looking at explosions and, as an artist I'm of course fascinated by their visual seductiveness. I'm also interested in the forms of violence they represent, in our relationship to them, and in identifying the imaginative references they instantiate.
With names like "Artillery," "Groundburst," and "Napalm," the pyrotechnics evoke not only violent and destructive events from wars and conflicts, but also the dramatic re-enactments of such events familiar from feature films or war documentaries. Witnesses to extreme situations often describe what they saw as being "like a film," and modern filmmakers use CGI and special effects to conjure the most realistic possible disasters to entertain viewers. Indeed, one of the pyrotechnic manufacturers was also responsible for making explosive effects for James Bond and war films.
By using photography to record a simulated or imagined scene, I am creating a document that is already a departure from reality. Moreover, most of the photographs in this series were in fact taken during manufacturers' demonstrations for military and police shopping trips rather than during training itself—in this sense, the images represent artificial instances of artificial explosions, packaged here as "product." Both cataloguing and decontextualizing the explosions they depict, these photographs permanently suspend them in a tranquil and contemplative moment. The image of a past event hovers between "then," "now," and "what might be"; what should be a decisive moment isn't actually.
And with the wall vinyl 'Match' 2015, I again worked with a recreation or replica for my subject. John Walker invented and sold the first ever friction matches in 1827 in Stockton. The fact that this invention coincided with the production of the oldest surviving photograph by Niépce and many other investigations into the invention of photography is a wonderful connection that inspired the original commission in Stockton. The convenient production of fire and light in the form of a matchstick, and the fixing of light in a photograph is brought together in the final image. By recreating and lighting a John Walker 'Congreve' match, I was able to capture in a photograph exactly the same quality of light that would have been seen by someone striking a match in 1827. The photographic image of a lit match fixes a fleeting moment and monumentalises a tiny object in a large scale print.
The subjects of my photographs often involve collaboration with institutions, and for this commission I was fortunate to work with Dr Joe McGinnis from the Chemistry department at Teesside University who skilfully reproduced the original chemical formula of the match head for me, and staff at Preston Park Museum in Stockton who provided copies of the original manuscripts where Walker recorded his findings that we used to recreate the Congreve.
Was there a poignant photographer or photograph that made you want to work in the medium?
I think that when I was studying on my Art Foundation Course and had a go at working with lots of different media, the Photography element really resonated with me because of the medium's ability to be democratic (anyone can use a camera) and that it is functional (it can be used as evidence in forensics for example, record events as diverse as family events and wars). The languages of the medium and the artists who were using it such as Cindy Sherman, Sherrie Levine, Barbara Kruger and Sarah Charlesworth from the Pictures Generation who I was introduced to in the mid 1990's when I was studying were incredibly inspiring for me.
How would you describe your creative process?
My work always begins with a hunch about a potentially interesting subject and I follow this up with a lot of research and requests for permissions for access (which doesn't always work out). Once I've managed to get a connection with a venue this I will make some provisional works, test ideas and reshoot and refine the work. Sometimes this doesn't lead to work, and occasionally it leads to further contacts and further opportunities to make work. My practice has shifted recently and the work I'm making now uses images I've found online of vinyl covered prototype cars as starting points alongside historical research on Razzle Dazzle Camouflage.
What piece in the exhibition are you looking forward to seeing?
I'm a big fan of most of the works in the show, it's an absolute treat for me to be participating and I am as excited about the contemporary work as I am with the historical pieces. As you can surmise Fire is one of my favourite subjects and this exhibition ticks all the boxes for me! If I had to choose one though, it would be John Martin's epic and apocalyptic painting.
Image credit: Sarah Pickering, Landmine, 2005, chromogenic print, 125 x 125cm, courtesy the artist