Celebrating Diversity and Empowering Women: just some of the reasons why Bishop Fleming were keen to support the RWA's latest exhibition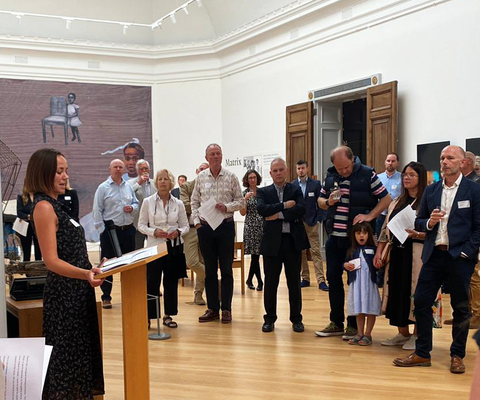 We are always incredibly grateful for the sponsorship we receive for our exhibitions – without this support we would not be able to put on the exciting programme of exhibitions and learning and participation projects that we currently run.
Bishop Fleming has generously supported us with two exhibitions: the Albert Irvin and Abstract Expressionism Exhibition in 2019 and again with our exhibition Found Cities, Lost Object: Women in the City, 20 May - 13 Aug 2023.
We caught up with their Inclusion and Diversity strategy lead and Partner Ria Burridge who explained why they were particularly keen to be involved in this last exhibition.
"I am proud of the steps we are taking as a firm to become more socially responsible and working in partnership with the RWA to support "Found Cities, Lost Objects" is one example of this. We want to continue fostering a culture that celebrates diversity and provides a platform for individuals from all walks of life to excel."
Inclusion and diversity is a fundamental aspect of Bishop Fleming's values and business strategy – "we believe that diverse perspectives fuel innovation and drive positive change". The company have implemented several initiatives to ensure a more representative and inclusive workforce.
Engaging and listening to our employees: We listen to the voices of our people and local communities through regular surveys, open forums, and feedback mechanisms. Understanding the different perspectives help us shape our inclusion and diversity strategies.
Empowering working parents: We work with transition experts 'How Do You Do It' to provide a supportive environment for working parents to share their experiences, develop strategies for work-life balance, and build a strong support network.
The Strive Internship (formerly the Black Intern Scheme): For the third year we are participating in this Hargreaves Lansdown run scheme, which aims to offer up to 75 paid internships to Black, Asian and minority ethnic university students living or studying in the West of England.
Social mobility work experience week: Working with Bristol Future Talent Partnership, we introduce students from Black, Asian and minority ethnic backgrounds in Bristol to professional careers that they may not have previously considered. A similar week is also run in Plymouth in conjunction with a number of local schools.
Women in Business Charter: We are a founding signatory of the Bristol Women in Business charter, which supports businesses in and around Bristol that are making progress towards gender equality.
Mentorship and support: I also serve as a mentor for SETsquared's Enterprising Women 3.0 program. This initiative supports aspiring women entrepreneurs, providing them with the necessary tools and guidance to transform their business ideas into reality.
 Kate Foster, Head of Development at the RWA, explained how the mutual ambitions of both organisations were married together as part of the partnership.
"We are incredibly pleased to be working with Bishop Fleming again; their support is not only essential in helping us to bring, Found Cities, Lost Objects: Women in the City to the RWA, but is also an example of how two very different organisations can work together to promote the same aims."
Bishop Fleming is a dynamic UK accountancy firm, providing a comprehensive range of services across a wide range of sectors. They have office locations in the South West and the West Midlands and are able to serve clients across the UK, and internationally through their membership of Kreston Global.
(https://www.bishopfleming.co.uk/)
If you or your organisation are interested in collaborating with the RWA on future exhibitions or projects, please contact Kate Foster at kate.foster@rwa.org.uk or 0117 906 7609 
Read more about the benefits to your brand here.