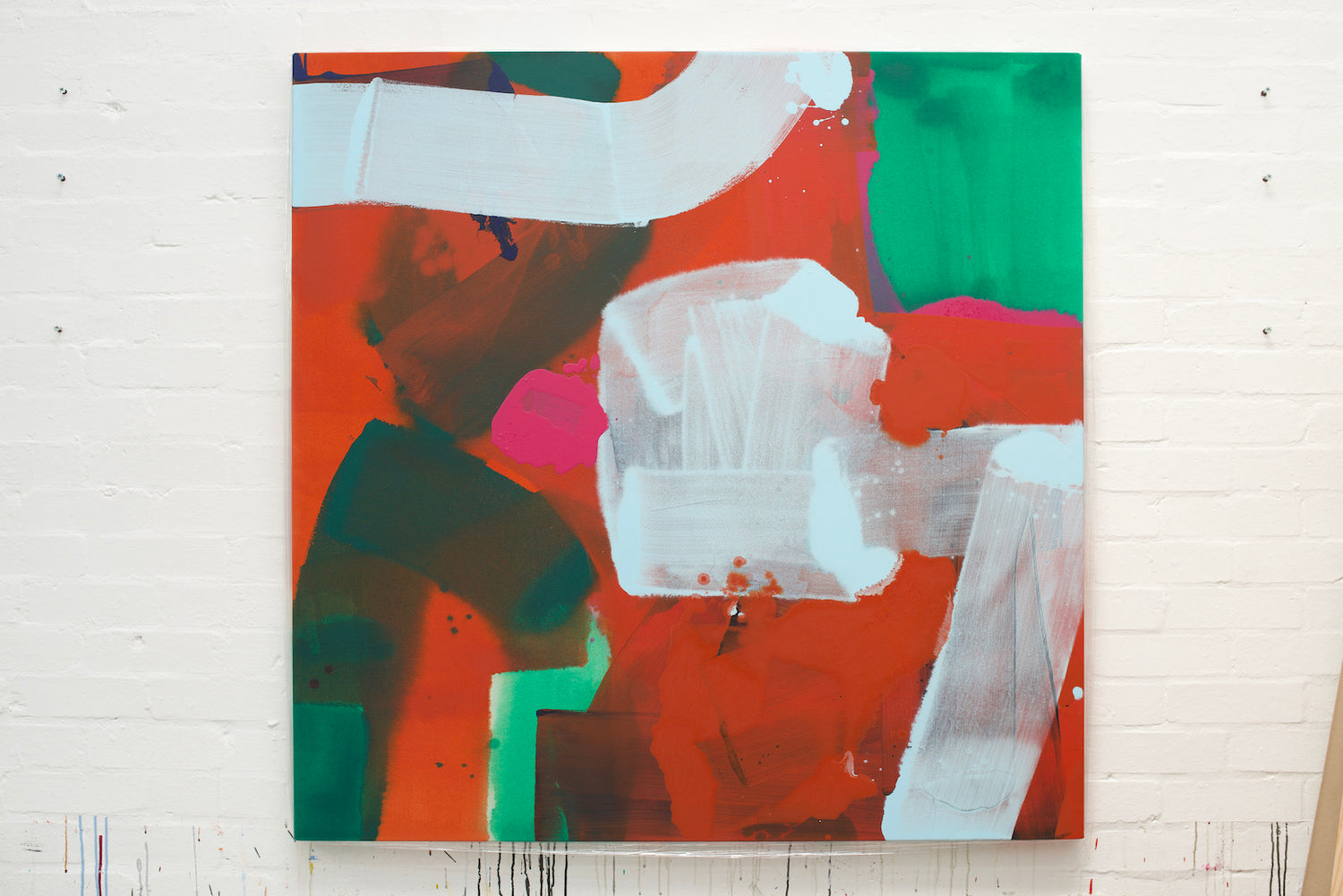 Strange Dance
14 March - 1 May 2023
THIS EXHIBITION HAS NOW CLOSED. PLEASE VIEW OUR CURRENT AND UPCOMING EXHIBITIONS.
14 March - 1 May 2023
Kenny Gallery
The exhibition Strange Dance represents a collaboration between musician and Radiohead drummer Philip Selway and artist Stewart Geddes, toward developing the music and album art for Selway's third solo album of the same name.
 The project encompasses dance from choreographer Simone Damburg Wurtz, who performed alongside Siobhan Davies, Liam Francis and Kenneth Tharp; and a digitally animated video of one of final quartet of paintings – Sakram - by Uncommon Creative Studio. Also included on the video loop is a short, filmed conversation between Selway and Geddes made by Novella Stories.
 The collaboration emerged from lockdown Zoom conversations between Selway (who was beginning to work on new songs from his home in Oxfordshire) and Geddes, who had been commuting through the vacant streets of Bristol to his studio in Bedminster. The two had met before the pandemic, but it was in their isolation, speaking studio to studio, that Geddes and Selway began to develop a creative dialogue.  'You had to occupy one space, you had to slow down.' Selway says of lockdown, 'which allowed these conversations to grow.'  Selway then invited Geddes to create the album art for Strange Dance (released 2023). What was unusual about this collaboration, beyond its unfamiliar circumstances, was that the visual elements were by no means an afterthought: the paintings and the music developed in parallel to each other, as a wordless dialogue.
Stewart Geddes, Strange Dance, photograph, Acrylic on Canvas - album artwork for Philip Selway's Strange Dance
 During the initial phases Selway would email over early versions of songs, and in turn Geddes would pan his laptop camera around the studio to show the paintings in progress.  During breaks in lockdown the two would meet in person to compare notes.
 Geddes was mindful not to illustrate the songs, but to respond to their inferred spaces and moods, as they increasingly came into focus. He listened to the evolving tracks while painting with the canvases laid horizontally and raised slightly from the floor, the seep of the music into his mind echoed in the spread of acrylic paint across their dampened, un-primed surfaces.
 Eventually, from the suite of eight paintings, Selway selected four to be used in various ways for the album. 
'Although I come from a landscape tradition,' Geddes says, 'I think of these paintings as more about enclosed room-like spaces… The spaces we inhabit and have intimate conversations in.'
Stewart Geddes, Canaro, Acrylic on Canvas


Newsletter
Sign up to our newsletter to keep up to date with RWA news