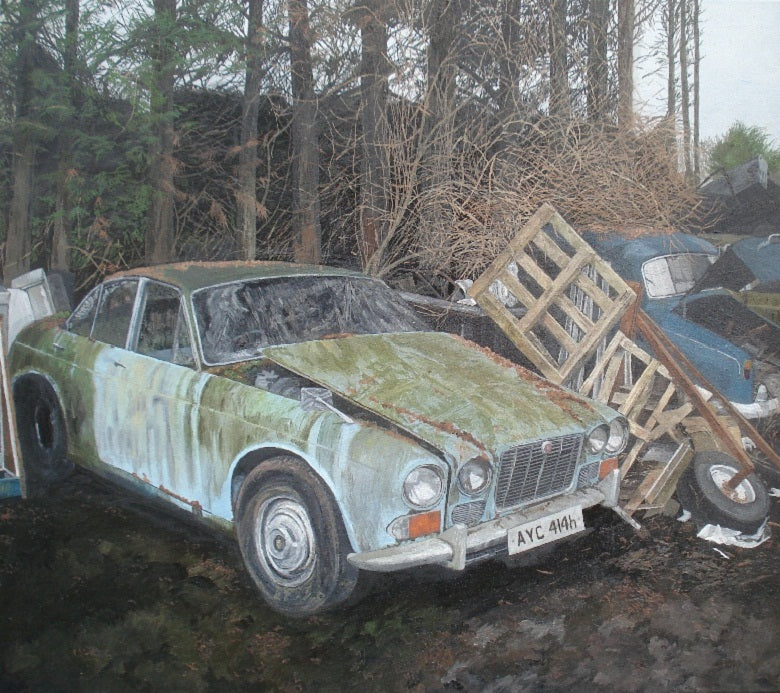 Rebecca Cains RWA RBA: Beauty from Decay
6 Mar - 8 Apr 18
Unfortunately, tickets for this event are no longer available. Subscribe to our newsletter below to be first to hear about similar events
THIS EXHIBITION HAS NOW CLOSED
PLEASE CLICK HERE TO SEE OUR CURRENT EXHIBITIONS
Rebecca Cains was selected to train as a dancer at The Arts Educational Schools, London in 1985, where she studied ballet, contemporary, Jazz, tap, choreography, singing, drama and art. After graduating in 1988, she embarked on a professional dance career working and touring in both the UK and Europe. Some of her dance work includes contemporary company Dancers Anonymous, performing at both the Edinburgh festival and in Germany for UK choreographer Pat Dennison. Her last engagement was a tour of Italy, dancing for leading Italian choreographer Gino Landi in Cole Porter's musical Can Can. During this time she began to paint again and study the masters at first hand. A knee injury led to a change in career and she concentrated on painting which had always been of parallel interest to her dancing, going on to study and gain a BA (Hons) Fine Art (painting) Degree at Bath Spa University. She comes from an artistic background with her father being a practicing artist and a member of the Royal West of England Academy.
Rebecca is a representational artist, working from direct observation. Her work captures the less fashionable areas of towns and cities where she grew up and has since revisited with renewed vision. Much of her work is based at a local scrap yard where she is visually interested in the haphazard shapes, textures and colours of decayed vehicles stacked together like forms of sculpture. Her paintings create a haunting poetry about the wrecked detritus of our contemporary world, heightened with the urban environment juxtaposed against a rural landscape. The scenes are devoid of people with the wrecked vehicles taking on a personality of their own. She paints in oils using a low toned English palette to capture the subtlety and subdued colour of her chosen subject matter.
She is an elected member of the Royal West of England Academy, the Bath Society of Artists, the Royal Society of British Artists and has exhibited her paintings in many national exhibitions including the Royal Academy Summer Exhibition, New English Art Club, Royal Society of Oil Painters, Discerning Eye, Royal West of England Academy, National Open Painting Exhibition 2010 where she was awarded 1st prize and the Lynn Painters-Stainers Prize Exhibition where she was a runner-up in 2010. She lives and works near Bristol, Somerset.
A selection of Rebecca's works will be on display in the Academicians' Gallery on the Ground Floor, from 6 March - 8 April.
Admission is free.
Newsletter
Sign up to our newsletter to keep up to date with RWA news