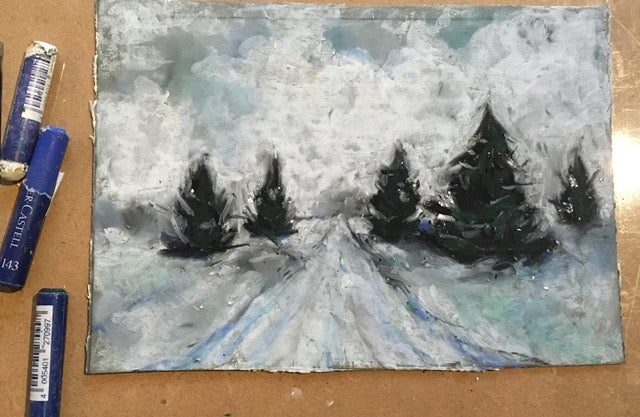 Junior Drawing School - Wintry Scenes
Unfortunately, tickets for this event are no longer available. Subscribe to our newsletter below to be first to hear about similar events
On Zoom 
10:30am - 11:30am, Tuesday 22 December 2020
A chance for 7-12 year olds to create their own oil-on-board landscapes. These evocative, snowy and frosty masterpieces can be hung on the wall or given away as Christmas presents.
Artist Abigail Reed will show examples of various artists who paint and draw snowy landscapes, as inspiration for this workshop. Then, using oil pastel on dark mount board (or stiff cardboard) she will guide participants to build up a scene using simple techniques that can be used again and again.
This is a great opportunity for younger artists to build on their drawing and blending skills, to make breathtakingly cold and wintry images to mark the season.
This is a digital class via Zoom. The Zoom link and password will be sent to you at least the day before the workshop. You will also be sent a materials list the week before the workshop if you have booked in time. 
Due to coronavirus closures we have had to make decisions on our programme and decided to continue with autumn and winter activities online. We do hope you will enjoy the fun of an artist-led workshop at home.
Newsletter
Sign up to our newsletter to keep up to date with RWA news