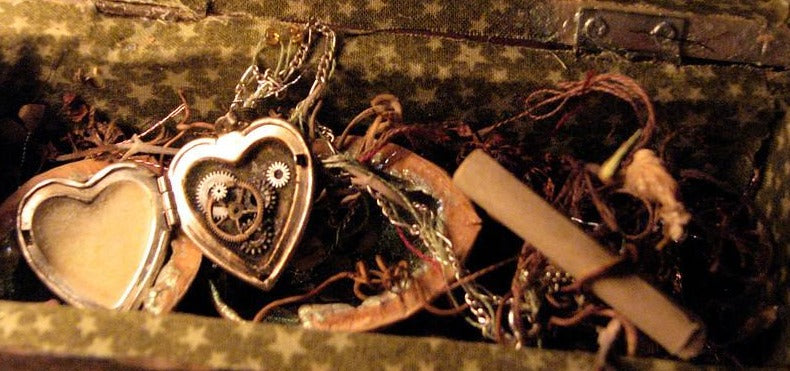 Junior Drawing School Zoom - Lockets
6 Apr 2021
Unfortunately, tickets for this event are no longer available. Subscribe to our newsletter below to be first to hear about similar events
Zoom workshop, Tuesday 6th April 2021,10:30am - 12:00pm
Make your own lockets using materials from around the house, shed or recycling box. The results may end up becoming a gift for someone you can't wait to spend time with again, or something to wear round your own neck so keep someone close to you. We will try 3 different methods, so don't worry if you can't find all the materials!
Suitable for 9-13 year olds, this is a great opportunity for younger artists to build on their skills, becoming more dexterous with materials and fiddly components. 
You will need:
two or three really small printed photos (could be printed on paper)*
bottle-top with a clip flip lid (e.g. washing up liquid bottle lid)
Lengths of thin ribbon long enough to go round neck and hang down
beads, sequins, any tiny decorative bits 
a needle that will go through the beads & ribbon will thread onto
2 of the largest washers you can find (see e.g. here)
2 metal bottle caps (e.g. from glass beer or coke bottles)
1 piece of white card
Strong glue - only to be used with adult supervision (hot glue-gun is best)
Acrylic paint - not essential
*the faces or figures in the photos need to fit approximately a £2 coin size.
By booking this class, you understand that it will run as a digital class via Zoom. (The Zoom link and password will be sent to you at least the day before the workshop)


Newsletter
Sign up to our newsletter to keep up to date with RWA news