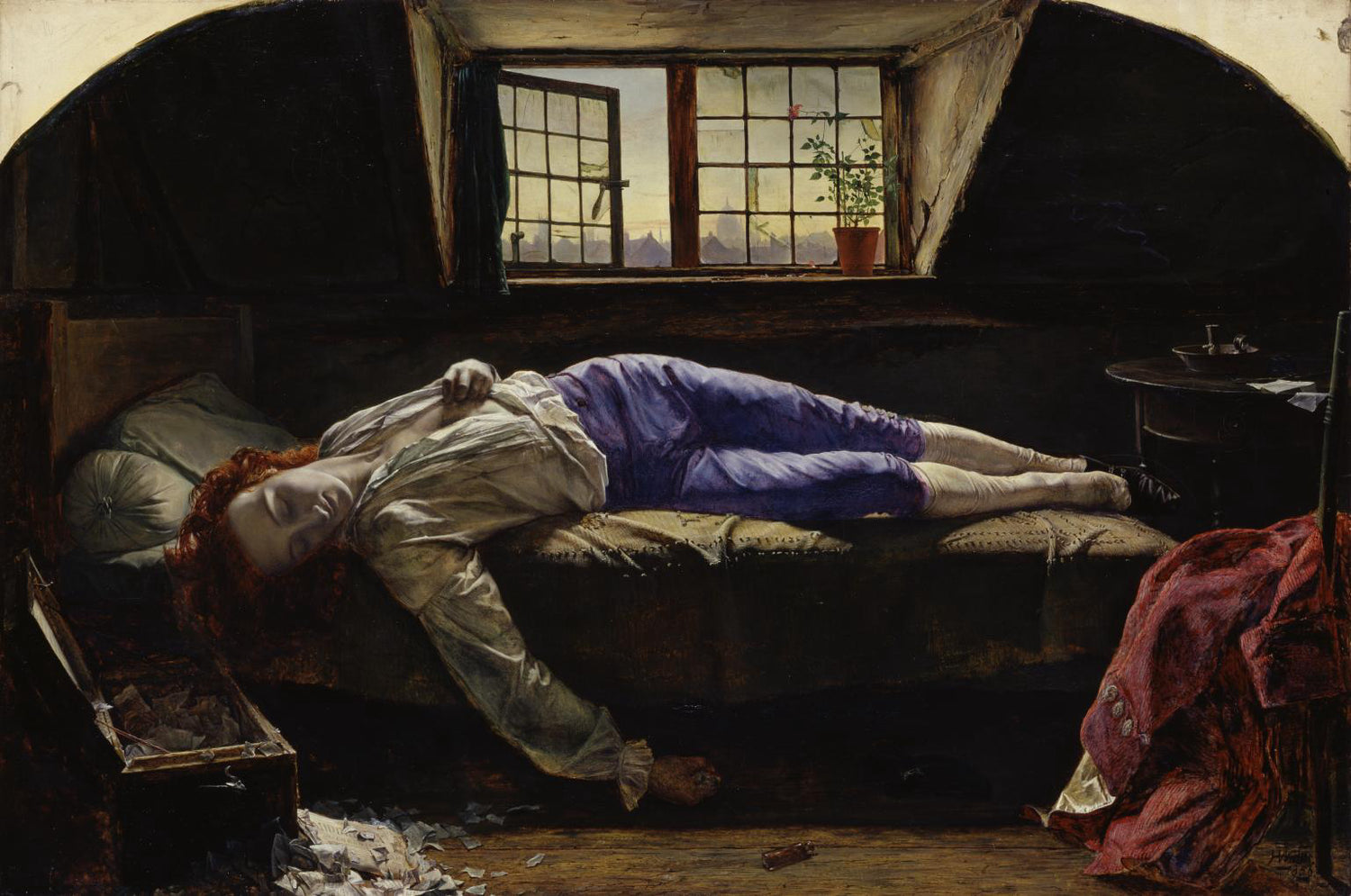 Friends, Patrons and Volunteers Preview: The Death of Chatterton
6 & 13 Oct 2020
Unfortunately, tickets for this event are no longer available. Subscribe to our newsletter below to be first to hear about similar events
THIS EXHIBITION HAS NOW CLOSED
PLEASE

 

CLICK HERE

 

TO SEE OUR CURRENT EXHIBITIONS
Please note: this preview is for RWA Friends, Patrons and volunteers only.

Click here for general admission.
Join us for a viewing of Henry Wallis' notorious Chatterton painting in this free exhibition as part of A Poetic City.
A unique opportunity to see a painting that created a sensation when it was first exhibited at the Royal Academy in 1856, and was described by leading Victorian art critic John Ruskin as 'faultless and wonderful'.

2020 marks 250 years since the death of Bristol-born poet Thomas Chatterton.
Despite his accolade as the "Father of Romantic Poetry", he's largely unknown in
Bristol. Chatterton's writings, life and death was a source of fascination for artists
and writers in the 19th century and he became a tragic hero, emblematic of artistic
martyrdom. 
Accompanying the exhibition of Wallis' painting at the RWA, the A Poetic City programme also includes new publications; poetry commissions and readings; mental health workshops and lectures. 
Former Bath Young Poet Laureate Polly Denny has been appointed Writer in
Residence at RWA during the Wallis exhibition and writing a poem to mark the new phase in the gallery's history. RWA will be exhibiting artworks made by young people of a similar age to Chatterton alongside the Wallis painting. These artworks have been created with community youth groups and students in workshops exploring Chatterton's significance, led by Polly Denny and RWA Academician Laurie Steen.
About A Poetic City
Coordinated by the Bristol Cultural Development Partnership, A Poetic City is a multi-partner, citywide programme bringing to light Bristol's links to this iconic literary figure. It aims to connect contemporary poetry practice to its roots in the past, and to bring forgotten past stories back into the light. It is celebrating Bristol's vibrant and diverse contemporary poetry scene and inspire and commission artists and poets of the future.
Important Information for Bookers

 
1. When reserving free tickets, please click the 'continue to payment' button and the 'pay now' button on the following page. Not doing so will mean your booking will not be processed. Unless you are making a £3 donation, you do not need to enter payment details and your card will not be charged. 
2. Admittance is only for visitors with pre-booked tickets, or to visitors on the day only if there is capacity. 
3. Each booking slot lasts 30 minutes. 
4. Please bring a face mask to wear for the duration of your visit.
5. Please be aware that the number of people who can enter the RWA at any one time is restricted. Due to this, there may be a queue to enter. 
6. Contact details for ticket bookers will be captured.
7. The café is currently closed.
8. The building will be thoroughly cleaned and sanitised at the end of each day.
Download the Smartify App 
We're always thinking of ways we can make our galleries safer. One of the ways you can improve your museum experience and make social distancing easier is by downloading Smartify before your visit. 
Not only can you listen to our audio guide through the app, but you can access information about specific paintings. When you get here, simply hold your phone up to an artwork. The app will recognise the image and you can read about it on your phone. No more standing close to people to read labels! You can also save your favourite artworks, allowing you to go back and look at them after your visit. Download the app today.
The programme is funded thanks to grants awarded by the National Lottery Heritage Fund, using money raised by National Lottery players.
Image credit: Chatterton, 1856, Henry Wallis. Tate: Bequeathed by Charles Gent Clement 1899. Photo © Tate. Image released under Creative Commons CC-BY-NC-ND (3.0 Unported)

Newsletter
Sign up to our newsletter to keep up to date with RWA news