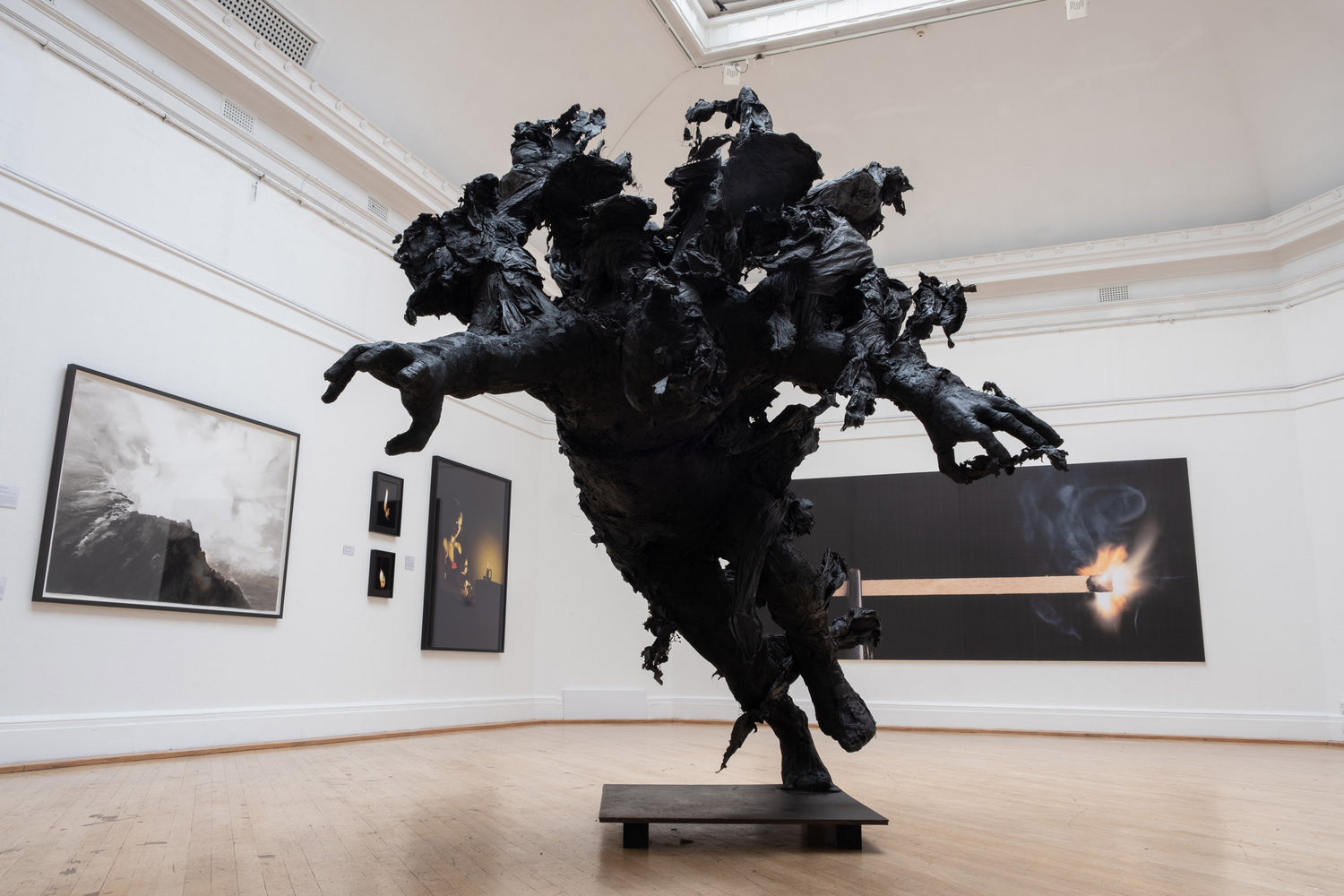 Fire: Flashes to Ashes in British Art 1692-2019
15 Jun–1 Sept 19
Unfortunately, tickets for this event are no longer available. Subscribe to our newsletter below to be first to hear about similar events
THIS EXHIBITION HAS NOW CLOSED
PLEASE

 

CLICK HERE

 

TO SEE OUR CURRENT EXHIBITIONS
Book online today and save over £1 on adult admission tickets. Purchasing a Gift Aid ticket will enable us to claim an extra 25p of Gift Aid for every £1 you donate. With your support, people of all ages can be inspired by our exhibitions and creative activities. To enable us to claim Gift Aid, please give your full name, first line of address and postcode at the checkout. By purchasing this ticket you agree that you have read our Gift Aid Declaration.
---
A major exhibition tracing the representation of fire in British art across the last four centuries; exploring the symbolism and meaning the element has had for artists throughout history.
Featured in The Times, The Spectator and Art Quarterly
Fire: Flashes to Ashes in British Art 1692-2019, is the third in a series of element-themed exhibitions at the RWA, bringing together a number of important historic, modern and contemporary artworks. Destructive and creative, fearsome and fascinating⁠—fire is a subject loaded with symbolism, ritual and emotion.
Unsurprisingly, the subject of fire has attracted artists throughout the ages. This exhibition will examine how artists' approaches have changed over time, recording historical, religious, domestic or natural events as well as exploring fire as a material phenomenon informed by contemporary themes and issues.
This exhibition shows how vital fire has been to the human experience, through technology, storytelling and symbolism and how the duality of our relationship with the element continues to fascinate in the 21st century.
Fire features the following artists: Roger Ackling, William Bankes Fortescue RWA RBA, Wilhelmina Barns-Graham CBE RWA Hon, Siân Bowen, Sophie Clements, John Cleveley the Elder, John Robert Cozens, John Collier OBE RP ROI, Mat Collishaw, Stephen Cripps, Jeremy Deller, Toni Davey RWA, Michael Faraday, Stanhope Alexander Forbes RA RWA, Douglas Gordon, Ralph Hedley RBA, Susan Hiller, David Inshaw RWA, John Latham, Aoife van Linden Tol, John Martin, Anthony McCall, Nadège Mériau, John Minton, Catherine Morland, David Nash RA, John Nash CBE RA, Rachael Nee RWA, Cornelia Parker OBE RA, Sarah Pickering, James Pimperton, John Piper CH, James Baker Pyne RBA, Eric Ravilious, Claude Rogers OBE RWA, Aura Satz, Godfried Schalcken, Samuel Scott, Rolinda Sharples RBA Hon, Tim Shaw RA RWA Hon, Stanley Spencer CBE RA, Emma Stibbon RA RWA, Marianne Stokes, Graham Sutherland OM, J. M. W. Turner RA, Karl Weschke, Joseph Wright of Derby ARA
Please note that a tour of this exhibition runs every Tuesday from 12-12.30pm and is free to all ticket holders.
---
Opening times
This ticket may be redeemed any day that we are open within the exhibition dates (15 Jun–1 Sept 19).
Tuesday-Saturday 10am-5.30pm
Sunday 11am-5pm
CLOSED Mondays
Last admission 30 minutes before closing. The RWA occasionally closes early for special events. Please call ahead or check the website for details.
---
Ways to Pay
ONLINE TICKETS: Save over £1 on adult admission tickets by booking online at least 12 hours before your visit. Simply show your email order receipt to reception to gain entry. Please note that each ticket can only be used once. 
RWA ART PASS: The Art Pass allows you to visit any RWA exhibition, as many times as you want, for one whole year. 
ON THE DOOR: 
Adults: £7.95 (includes an 80p donation) £6.95 online
Concessions: £6.75 (includes a 70p donation). Pay on the door
Under 18s/SGS, UoB & UWE students: FREE
RWA Art Pass Holders: FREE Purchase an Art Pass
Friends of the RWA: FREE Join today
National Art Pass holders: 50% discount on ticket price. Pay on the door
---
Gift Aid Declaration: Purchasing a Gift Aid ticket will enable us to claim an extra 25p of Gift Aid for every £1 you donate. By purchasing a Gift Aid ticket you agree that you have read and agree to the following Gift Aid Declaration:
Please treat this entry ticket to the RWA as a Gift Aid Donation. I am a UK taxpayer and understand that if I pay less Income Tax and/or Capital Gains Tax than the amount of Gift Aid claimed on all my donations in that tax year, it is my responsibility to pay any difference.   
Image credits | 1: 
Exhibition (installation view). Photographer: Lisa Whiting. Foreground: Tim Shaw RA RWA Hon, Man on Fire, 2009 (reworked 2015)  black painted foam and polythene on steel, 350 x 400 x 240cm | 

2, 3, 4 & 5: Exhibition (installation view). P

hotographer: 

Lisa Whiting | 6: Joseph Wright of Derby ARA (1734-1797) Vesuvius in Eruption, with a View over the Islands in the Bay of Naples, c. 1776-80, oil on canvas, 122 x 176.4cm. Tate: Purchased with assistance from the National Heritage Memorial Fund, the Art Fund, Friends of the Tate Gallery, and Mr John Ritblat 1990. Image © Tate, London 2019
Newsletter
Sign up to our newsletter to keep up to date with RWA news