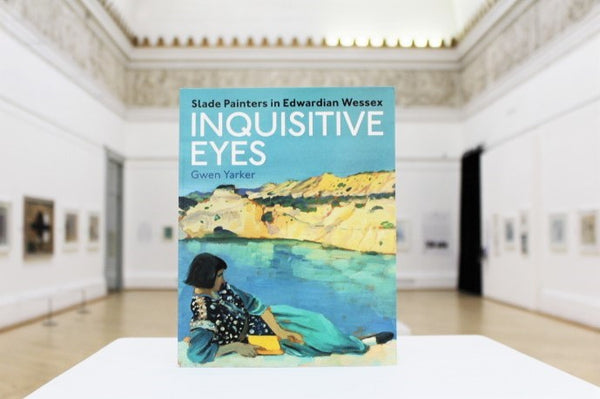 'Inquisitive Eyes' - Catalogue
This real contribution to the literature on artists and place is a truly fresh look not only at the Slade 'milieu but at the flavour of landscape painting in early twentieth-century Britain. Convincingly argued, this focuses on the importance of Purbeck to some of the most important Edwardian painters. 
Plein air
 artists visiting from the 1890s saw the county through the lens of Thomas Hardy and exhibited paintings of a timeless Wessex in London. Slade tutors and students, during its Grand Epoch and 'first crisis of brilliance', mostly visited through their friendship with a friend of Hardy, the little known Dorset-born painter John Everett. Easily accessible by train from London, painters were there in the summer months leading to Augustus John's description that 'Corfe Castle and the neighbourhood would make you mad with painter's cupidity'. Up to 300 painters were attracted to this sketching ground by its unique combination of ancient barrows and mining/clay pits, and dramatic coast, over the period.
Painters featured in the book include Vanessa Bell, Charles Conder, John Everett, Roger Fry, Augustus John, Helen McNicoll, William Orpen, Philip Wilson Steer and Henry Tonks.
About the author: An independent art historian, Gwen Yarker is an elected Fellow of the Society of Antiquaries of London and the Royal Historical Society. She has a masters degree in British art from the Courtauld Institute and was curator of art at the National Maritime Museum and collections manager of the Russell-Cotes Art Gallery and Museum. She has been responsible for some major acquisitions for public collections. Now an experienced lecturer, exhibition curator and author Gwen specialises in British art from the eighteenth to mid-twentieth century.

Dimensions: 27 x 21 cm
Author: Gwen Yarker
ISBN: 978-1-908326-85-0
Cover: Paperback
Publisher: Sansom and co
No. of pages: 132

P&P £3.50 (Royal Mail 1st class, Large Letter)
Please note, that items are only dispatched on Wednesdays and Saturdays.

Newsletter
Sign up to our newsletter to keep up to date with RWA news