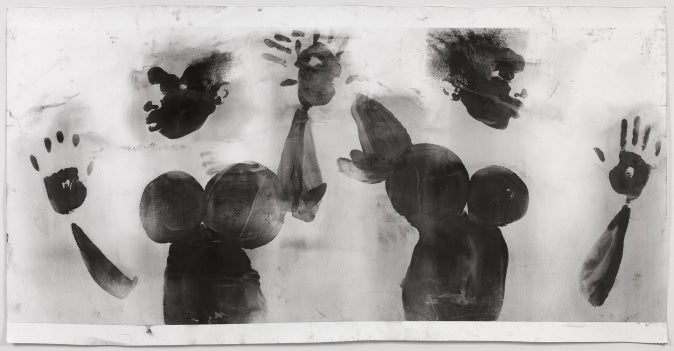 Adelaide Damoah RWA: Reembodying the Real
11 Feb 20 - 11 Mar 20
Unfortunately, tickets for this event are no longer available. Subscribe to our newsletter below to be first to hear about similar events
THIS EXHIBITION HAS NOW CLOSED
PLEASE

 

CLICK HERE

 

TO SEE OUR CURRENT EXHIBITIONS
A free exhibition of work by Academician Adelaide Damoah, from her Genesis series.
Adelaide Damoah (RWA, FRSA) is a British artist of Ghanaian descent working at the intersection of painting and performance within the context of colonialism, identity, sexuality and spirituality.
The works in the Genesis series mark the beginning of the artist's exploration into her personal history. The series was sparked by the discovery of a photo of her great-grandmother, Ama Ammissah Quansah, dating back to 1920 in British Gold Coast (now Ghana). The discovery led to an obsession with the image and Adelaide has used it multiple times in various works including The Rebirth of Ama (2018) which is featured in this series of work. The same image sparked a desire to discover more about the history of colonialism and the relationship between the colonised and the coloniser. The bible page works in the series prompted the artist to start to consider the relationship between Christianity, spirituality and colonialism. Of the body print works in the series, Adelaide says, "Black and gold have been used both for aesthetic and metaphorical reasons. Black is evoking skin colour, but also absence as a lived experience. Meanwhile, gold is referring to Ghana's historical source of wealth which gave it its colonial
name (Gold Coast)."

Works in the Genesis series are importantly titled after Ghanaian proverbs with the translation of the twi in English in order to further tie the work to the artist's heritage.
@adelaidedamoah
Images: If it comes, it affects your relatives (Ɛba a, ɛka oni), pigment on watercolour paper, 2018
If someone does not know you, he may call you a beast (Obi nni wo a, ɔfre wo aboa bi), pigment on watercolour paper, 2018
John Brown's Bible, pigment and 24 carat gold leaf on bible page, 2018
The Rebirth of Ama, mixed media on canvas, 2018
The Rebirth of Ama (detail), mixed media on canvas, 2018
All images © Adelaide Damoah
Newsletter
Sign up to our newsletter to keep up to date with RWA news