Big names announced for RWA Secret Postcard Auction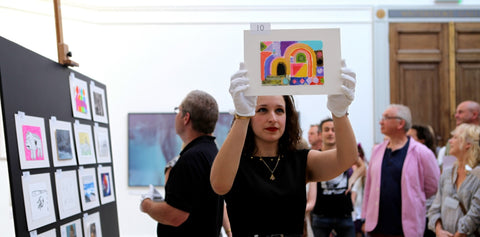 SECRET POSTCARD AUCTION ONLINE BIDDING NOW OPEN! CLICK HERE TO BID
We are excited to announce that we've received some fantastic original works of art from artists including Norman Ackroyd, Basil Beattie, Eileen Cooper, Tracey Emin, Gilbert & George, Antony Gormley, Maggi Hambling, Susie Hamilton, Marcelle Hanselaar, Allen Jones, Ana Maria Pacheco and Nick Park. You can read the full list of artists here.
Can you tell a Royal Academician from an emerging talent; an Aardman creator from a YBA? If you can, you have the chance of owning a piece from as little as £40!
The pieces will all be on show in the Secret Postcard Exhibition at the RWA and online from 3 - 15 May, and the main event itself is on Thursday 16 May.
Sign up to our newsletter in the coming weeks for more information, and book your ticket today.
The Secret Postcard Auction is a fundraising event which raises approx £40,000 each year for the RWA, so that it can continue to show exhibitions of historic and contemporary art, as well as engage people from all backgrounds with creative activities.
We are grateful for the support of St Cuthberts Mill, The Print Company and Hollis Morgan Estate Agents and Auctioneers.