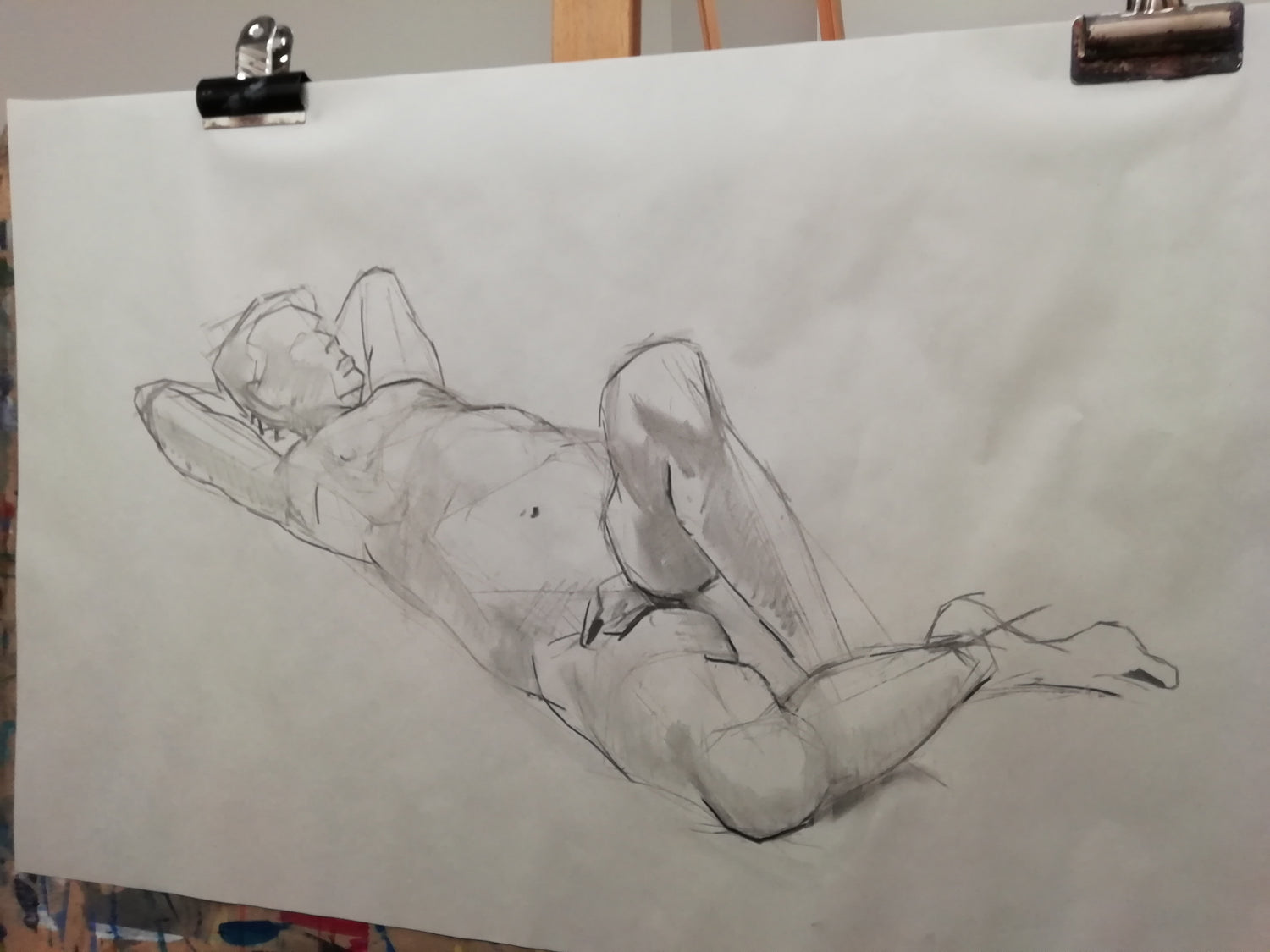 Untutored Life Drawing - Evening Class
Starts 19 Apr 2023 | 10 weeks
Select your tickets:
10 WEEK STUDIO PLACES ARE NOW SOLD OUT. IF YOU WOULD LIKE TO BOOK FOR THE IN PERSON SESSIONS PLEASE CLICK BELOW FOR THE DROP IN IN THE GALLERIES.
Starts Wednesday 19 April 2023

Wednesdays, 6.30pm - 8.30pm 
£120 for all 10 weeks in the Studio and Gallery
£120 for all 10 weeks on Zoom
£12 'drop in' in the Galleries - only available for 7 weeks 
Practice drawing from a nude life model in this informal evening session in the galleries or in the studio or on Zoom, over the course of 10 weeks. We will endeavour to alternate a male and female model each week. Please note this is an untutored session, but will be facilitated each week by Laurence Kell. Basic materials are included for those attending the sessions in person. 
Evenings in the galleries (and available for drop in) - 19th and 26th April, 24th, 31st May, 7th, 14th and 21st June
Evenings in the studio - 3rd, 10th and 17th May
For those joining via Zoom, you will need to provide your own paper and drawing media. You will need a device that you can use Zoom on, with a working microphone and camera, so that you are visible throughout the class. You do not need to have a Zoom account. Once purchased, the link and the password will be emailed to you on the day of the class.  The latest you can book is 5.30pm the day of the class. If you have not received the email with the Zoom details, please email drawingschool@rwa.org.uk
Before booking we ask everyone please read our updated Terms and Conditions below.  
Participants must be 16 or over.
You will need a device that you can use Zoom on, with a working camera and microphone. You are not allowed to take any screenshots of the class or record it with a device. You do not need to have a Zoom account. Students will receive an email in advance of the class with the subject and link for the upcoming session. The Zoom session will start 15 minutes before, to ensure all participants have logged on successfully and feel ready for the session. 
If eligible, discounts must be applied when first purchasing your class and cannot be given retrospectively. Please contact us if the discount code is not working.
If you have a disability, learning difficulty or mental health issue which you feel may affect your participation in your chosen class, please either email drawingschool@rwa.org.uk or call 07745694563, prior to booking, so we are aware of any needs you may have.

Refund/transfer and Cancellation Policy: 
For those purchasing the 10 week course in full: We are unable to offer full or part cash refunds, but you are eligible for an RWA gift voucher or transfer, provided you notify us more than 14 days before the start of your class with us. If we cancel a course or workshop for any reason, then participants will be offered a different date, course/workshop or RWA gift voucher.
For those purchasing adhoc 'drop in' sessions: We do not offer refunds on Drop In classes
Newsletter
Sign up to our newsletter to keep up to date with RWA news