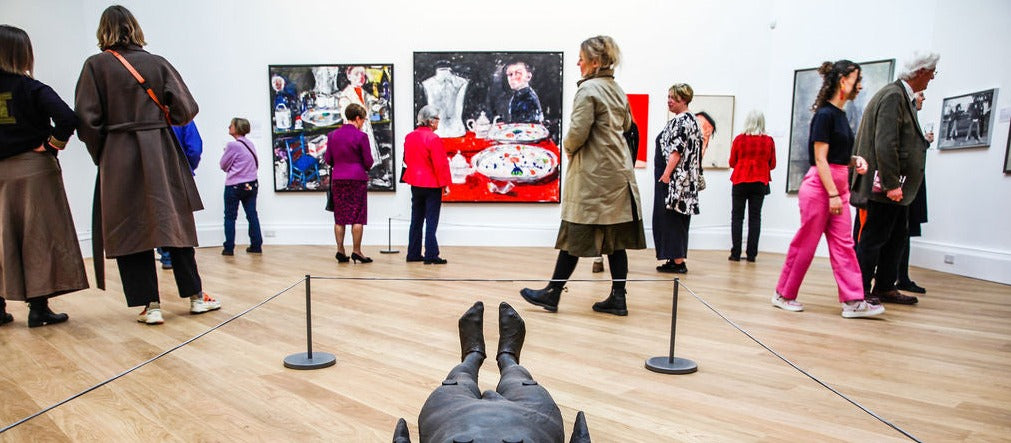 Free Days: Me, Myself, I: Artists' Self-Portraits
2 and 3 Jun 2022
Unfortunately, tickets for this event are no longer available. Subscribe to our newsletter below to be first to hear about similar events
Click here for general admission for the rest of the exhibition dates.
Free entry on Bank Holidays Thursday 2 and Friday 3 June 2022
As a thank you to Lottery Players who helped us transform our beautiful building we are offering two special discounted days for the Platinum Jubilee Bank Holiday this June (2 & 3 June).

You can walk in on the day without pre-booking, or book your tickets in advance.
Me, Myself, I: Artists' Self-Portraits is the RWA's landmark reopening exhibition in May - June 2022
Me, Myself, I: Artists' Self-Portraits provides historical context to today's selfie culture, through an exploration of self-portraiture over the last three hundred years. The exhibition, curated by Tessa Jackson OBE, in particular explores the last fifty years and the ways artists have imagined and presented themselves: from the highly personal and psychological to the controversial and political.
Me, Myself, I: Artists' Self Portraits includes over 80 artworks by major artists such as Grayson Perry, Tracey Emin, Sonia Boyce, Antony Gormley, Gillian Wearing, Harold Offeh, Shanti Panchal, Sir Joshua Reynolds, Angelica Kauffman, Élisabeth Louise Vigée Le Brun, Lucian Freud, Patrick Heron, Tony Bevan, Madame Yevonde and many more.

Discover the artists who challenged social norms and defied conventions, who questioned identity, gender and representation ahead of their time, and who constantly think afresh in an ever-changing world. Me, Myself, I: Artists' Self-Portraits is a timely re-examination of a fundamental area of art history that will bring together work from the 1720s to the 2020s, placing well-known artists alongside emerging talent.


#RWASelfPortraits
Image: 'Me, Myself, I: Artists' Self-Portraits', installation view, RWA, 2022. Photo: Alice Hendy
Related Events
Gallery Tours: Every Tuesday at 12pm. Included with your admission ticket, led by a member of the RWA team or a volunteer.
RWA Light and Inspiration After Hours, Thursday 9 June 6-9pm
I See Myself? A Panel Discussion - Friday 10 June 6-8pm
Portrait Drawing - Saturday 11 June 
Family events - various times & dates


The exhibition will take place across all main gallery spaces, following the transformational Light and Inspiration £4.1 million capital project, funded by NLHF and other generous supporters.
Sponsored by Bonhams and Fresh: Art Fair.
 
Newsletter
Sign up to our newsletter to keep up to date with RWA news