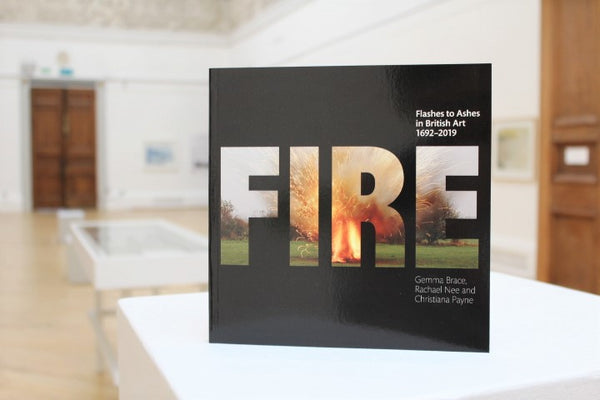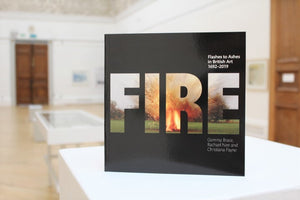 'Fire' - Catalogue
Catalogue to accompany RWA exhibition 
Fire: Flashes to Ashes in British Art 1692-2019, 
on display 15 Jun–1 Sept 19
(Please note, the catalogue is entitled 1776-2019 as there were earlier pieces added to the exhibition that were not included in the catalogue.)
Fire! traces the representation of fire in British art across the last four centuries.  In turns destructive and creative, fearsome and fascinating, it's a subject loaded with symbolism, ritual and emotion. Unsurprisingly, the subject of fire has drawn in artists throughout the ages.  It features in the work of major British artists such as J.M.W. Turner, John Martin, J.M. Whistler, Joseph Wright of Derby and William Blake, who are presented here alongside contemporary work by artists such as Cornelia Parker, David Nash, Mark Wallinger and Douglas Gordon.
The book looks at the many facets of fire; its ability to express concepts on a human scale, such as warmth, anger and passion; as a storyteller fundamental to religion and mythology; its effects on our language – we talk of burning desires and blazing rows; as a driving force behind the progress of civilisation through science, industry and technology; as a political tool sending visceral message with shocking finality; its contribution to advances in cooking, pottery, metal and glass; as a signifier of absence, the soul, loss and transcendence. Three newly commissioned essays on the subject explore fire in the process of making and how artists' approaches to fire have changed over time, recording historical, religious, domestic or natural events as well as exploring fire as a material phenomenon informed by contemporary themes and issues, combining art and science. This book seeks to address the dual nature of fire showing that fire continues to be welcomed and feared in equal measure.

Dimensions: 21 x 21cm
Author: Gemma Brace, Rachael Nee and Christiana Payne
ISBN: 9781911408383
Cover: Paperback
Publisher: Sansom and co.
No. of pages: 135

P&P £3.50 (Royal Mail 1st class, Large Letter)
Please note, that items are only dispatched on Wednesdays and Saturdays.
Newsletter
Sign up to our newsletter to keep up to date with RWA news