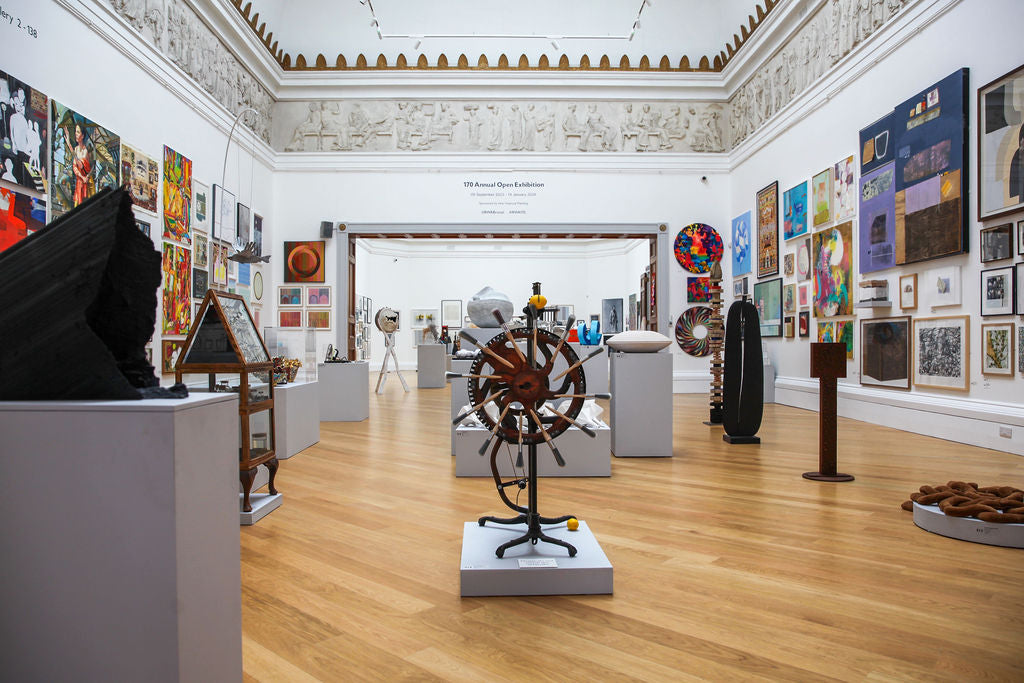 Artist Collection Bookings - RWA Annual Open Exhibition 170
19 - 21 January 2024
Please note this system is for booking a collection slot for artworks after the exhibition has finished, not a ticket to the exhibition itself.
We are operating using an hourly booking system for artists collecting their exhibited works. If you are exhibiting work(s) in the RWA Annual Open Exhibition 170, you need to book a collection slot. 
Collection days are Friday 19, Saturday 20 and Sunday 21 January 2024 between 10am and 4pm.
What will happen on the day?
1. Please book a slot and then come to the RWA, Queens Rd, Clifton, Bristol BS8 1PX within your allotted time. Make sure you bring some form of ID and packaging for your artwork if needed.
2. Parking is available on the forecourt - please be mindful that lots of artists will be collecting work at the same time, so please drive away straight away after collection.
3. Head up the stairs or use the lift, to the main galleries. There will be signage around the building, as well as staff at the front desk who can help direct you.
4. Once you get to the main galleries, please show our tech team your ID. All the artwork will be stacked in alphabetical order and the team will need a few moments to carefully get your work for you.
5. Once you have your work, please leave the main galleries and wrap your work on the tables on the landing and in the Kenny gallery. (There will be signage to help you find these tables).
Extra Information:
Please bring with you a form of ID when collecting your work. Work will not be released without this authority.
If a third party is collecting work on your behalf, please email curating@rwa.org.uk
If you are collecting multiple works you only need to book one slot. 
RWA technicians will be on hand to assist if your work is particularly large or heavy. Feel free to bring assistance with you if needed.
Due to the number of artworks being collected, please be prepared to wait during busy times - this may include waiting outside.
You may arrive anytime within your hour slot. If you have booked from 1pm for example, you may arrive anytime from 1.00pm until 1.59pm.
We understand that traffic can be unpredictable and travel times can vary, but please stick as closely as possible to delivery within your booked time slot.
If you need a BSL interpreter or other accessibility support when you hand in your work please contact curating@rwa.org.uk
The RWA has very limited storage space, so work that is not collected on time risks being stored in an unsuitable space in the building. If you are unable to collect the work on the collection days, we strongly suggest arranging for someone to collect the work on your behalf. Please email curating@rwa.org.uk if you need help with this.
Newsletter
Sign up to our newsletter to keep up to date with RWA news