Creative Christmas Advent Calendar: Taking a Line for a Walk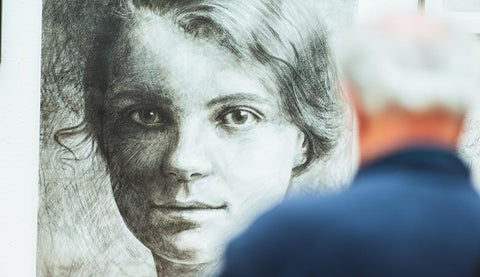 RWA Drawing School tutor Ruth Wallace gives a simple but effective exercise to hone your drawing skills.
"It was the Swiss artist, Paul Klee, who famously described drawing as being 'like taking a line for a walk'."
"Keep a sketchbook and pencil next to the nuts and chocolates at Christmas so that, when everyone slumps into that post-turkey stupor, you can spend ten minutes just 'taking a line for a walk'. Making a drawing with one continuous line is a good warm-up exercise and helps develop your hand/eye coordination. Place your pencil, or other drawing implement, on the paper and draw with one flowing, uninterrupted line. You can slow down and speed up, but don't lift the pencil from the paper until your sketch is finished. Allow the line to explore anything of interest as you go along, it can overlap, go back on itself, change direction, it can form bridges between spaces and objects."
"Look carefully, let your hand do the walking and don't worry too much about the finished result, just have fun with the process."
Ruth Wallace is a popular tutor and artist. Recently, she won the Affordable Art Fair People's Choice Award at the RWA 164 Annual Open Exhibition. She will be teaching Intermediate Drawing, Beginners Drawing and Introduction to Drawing in 2017.
RWA Creative Christmas Calendar
This Christmas, try something new, be inspired or even create a unique gift for someone very special as RWA a host of creative Christmas ideas, tips and activities.From Thursday 1 December, the RWA will post gorgeous artworks from the permanent collection, creative challenges from RWA Drawing School Tutors, exclusive competitions and some festive surprises on the RWA blog, Facebook and Twitter.