168 Annual Open - Milner Gallery Tour by Martyna Gradziel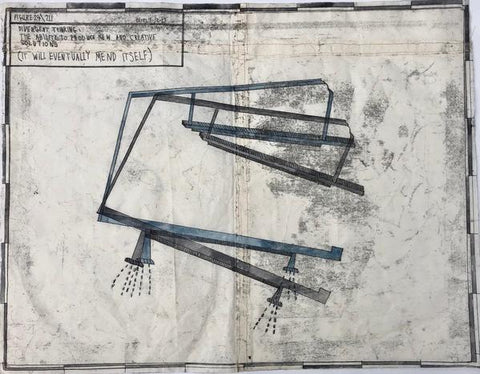 We are delighted to say that the RWA is reopening from Saturday 17 April - Sunday 9 May 2021. Book tickets for the 168 Annual Open Exhibition HERE
While we have been closed all artworks have been available for purchase online HERE and you can still do this until 9 May
489: Emily Lucas, "It Will Eventually Mend Itself"
The work by Emily Lucas immediately caught my attention with its mysteriousness. I found myself strangely attracted to it in an attempt to pin its meaning down, scouring the image for clues as how to interpret it, at the same time taking sheer delight in its elusiveness brought out by the thinness and fragility of Japanese paper and quiet touch of watercolour.
Equally enigmatic is artist's statement as found on her website: "Curve-line-curve; distant-far-remote; clear-a-place; in-the-distance; slight-bind; snatch-away; defect-fault-failing; produce-effect; break-loose; yet-still-even-further; catch-sight-of; spinning-confusion; lovely-lovely".
The text in the top left corner of the artwork offers a hint – divergent thinking mentioned there is the type of thinking inherent to the creative process. It happens when judgment is deferred while looking for and accepting many possible solutions. As a result unexpected connections are drawn. The opposite is convergent thinking which is responsible for organizing and giving structure to ideas and information. "It Will Eventually Mend Itself" is certainly the effect of applying the divergent mode of processing information and by means of ambiguity it encourages us to do the same.
Emily Lucas is a visual artist who in her practice uses drawing, print and stitch. In 2012 she graduated from MA Multi-Disciplinary Printmaking at UWE and is currently a PhD researcher. At the centre of her interests lies the question what urges artists to draw and why the autobiographical element is so important in the creative process. She finds inspiration in outsider works made in mental health asylums at the turn of the nineteenth century which often look surprisingly similar to art created today.
The artist is interested in the inadequacy of language to communicate thought process and interior experience. To illustrate that she takes short excerpts from old children's encyclopaedias and combine them with unrelated drawings, which transforms the text giving it a completely different meaning. The cataloguing and numbering of each work imparts the impression of a scientific hierarchy or system which a viewer can create for himself.
522: Lidia Lidia, "The Waiting Room"
Lidia Lidia is a multidisciplinary artist and activist who works with installation, video, photography, performance. Political and social issues lie at the heart of her practice. The coronavirus has had a great impact on her work. She made a series of colourful masks carrying messages like "people before economy", "freemarket or freedom", "lifestyle or life", "we did this".
"The Waiting Room" was created in response to the first lockdown. It started as a series of three images made in an attempt to make sense of the overwhelming confusion. It depicts us "waiting in this limbo, trying to keep our mind busy doing everything and the opposite of everything (…), waiting for the end of the lockdown, waiting for the governments to give us some answers, waiting to go back to normal, waiting to die...".
Lidia bought the skeleton called Mr SlimBones before the onset of the pandemic to study anatomy (body is of huge interest to the artist who used to perform for physical theatre and nowadays works as a life model). It turned out to be a great metaphor for the only thing we can be certain of in these unpredictable times: death.
All the outfits used in "The Waiting Room"come from Lidia's private collection which dates back to when she was 10 years old. Two children's hats, one shaped as a cat and another as an owl, inspired a photo paying homage to the poem 'The Owl and the Pussy-Cat' by Edward Lear. Lidia fell in love with its characters without gender "live[ing] in this surreal fantastic world surrounded by beauty, love and colours". The artist says it is probably her favourite image from the series. Another huge inspiration was the work of Frida Kahlo, especially in terms of colours. There is a direct reference to the painting 'The Wounded Table'.
During one of many exhibitions the series was part of, Lidia performed a live version of what we see on the photos: the artist herself wearing shiny and colourful clothes was sat next to a skeleton while singing a nursery rhyme "I'm H-A-P-P-Y" and polishing skeleton's bones. The performance was called Back to Normal and its goal was to make people think whether going back to business as usual should be our priority. Is this really what makes us happy? 
527: Kate Fraser, "Substation"
Kate Fraser is a visual artist based in Bristol who expresses herself through the media of painting, drawing and printmaking. She used to work as an architect before deciding to focus solely on her art practice in 2007. In 2020 she graduated from MA in Multidisciplinary Printmaking at the University of the West of England.
The change of career by no means stemmed from the loss of passion for architecture. She speaks about buildings with great affection referring to them as "containers for projected emotions, representing loss, grief, expansiveness, pathos or joy and sites for enquiry into the nature of our contemporary landscapes". Her goal is to capture moments in time and draw our attention to the elements of urban landscape we very frequently over-look and take for granted.
One of two prints by Fraser we can see in this year's exhibition depicts electricity substation in Barton Hill, Bristol. A smaller version of the image is a part of one of artist's projects made while studying at UWE - a collection of twenty prints of small buildings located in the public realm, including public toilets, estate offices, football pitch shelters and caravans.
Fraser was inspired by Bernd and Hilla Becher, German artists best known for their extensive series of photographs of industrial buildings and structures like water or cooling towers, often organised in grids. Their goal was to immortalise disappearing industrial architecture, the task to which Fraser seems to be dedicated herself. 
The technique she used is called card intaglio. It is a method of printmaking which consists in making incisions into cardboard using various tools or gluing elements to it, inking the plate and running it through an etching press.
The work of Fraser for me personally is a lesson in looking. She teaches me that it is possible to find aesthetic appeal in all sorts of sheds or utilitarian buildings which we pass by every day without paying attention.
536: Fiona Chaney, "Homage to Rudolf Laban - Passing Through"
Fiona Chaney is an interdisciplinary artist currently living in St Albans. Her practice spans drawing, print, painting and sculpture. She holds a degree from the Juilliard School in New York - internationally renowned school of the performing arts. Previously a dancer and choreographer, she made a transition into visual art. In 2010 she was awarded a BA(Hons) Fine Art at the University of Hertfordshire. Among her sources of inspiration, she lists John Cage, Robert Rauschenberg, Barnett Newman, Debussy, Kandinsky, Klee, Mondrian and Duchamps.
Rudolf Laban (1879-1958), to whom Chaney's work exhibited in RWA refers, was a dancer, a choreographer and a dance/movement theoretician born in Austria-Hungary. One of the founders of European Modern Dance, he believed that dance should be made available to everyone. One of his life goals was to raise the status of dance as an art form. He accomplished that through inventing a system of dance notation, which, after some modifications, is still in use to this day. After spending twenty years trying to understand movement, Labanotation or Kinetography Laban was created. It is a system of signs that represent body parts moving in space and time dynamically. It consists of simple geometrical forms symbolising direction: forward, side (left or right), backward. They are filled with colour or pattern depending on where the gesture should be performed: low, middle, high. Each set of symbols is divided into left/right side of the body and subsequently into step, leg gesture, body and arm.
Chaney pays homage to Laban by using simple geometric shapes and lines evocative of the aesthetic of the dance notation. The composition is perfectly balanced and minimalistic. It is evident that rhythm constitutes a very important element to the artist who created many pen and ink works based on the heritage of Laban. Although the sense of movement was present there from the beginning, learning about the artist's background deepened and extended my reading of the image. It reminds me of the strict order of a ballet classroom.
It is worthy of note that John Cage is also mentioned among Chaney's inspirations. An American composer, music theorist, artist, and philosopher, Cage also developed elaborate methods of graphic notation. His notations, while designed to represent sounds, are original works of art on their own.
Fiona Chaney's "Homage to Rudolf Laban - Passing Through" is a prime example of how different art disciplines can influence each other converging in a highly original piece of work.